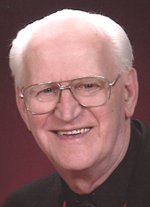 Obituary of Francis Christensen
Francis L. (Chris) Christensen, age 75, of Yankton, died Sunday, April 28, 2013 at St. Mary's Hospital, Rochester, MN. Memorial Service will be 10:30 AM, Tuesday, May 7, 2013 at First United Methodist Church, Yankton, SD with Rev. Ron Johnson officiating. Burial of cremated remains will be in the Yankton Cemetery. Visitation will begin at 5:00 PM, Monday, May 6, 2013 at the Opsahl-Kostel Funeral Home and Crematory, Yankton with a Prayer service at 7:00 PM. Visitations will resume one hour prior to the service at the church.
Chris was born May 31, 1937 in Milford, Iowa. He married Sherril Seaman on November 22, 1956 in Spencer, IA. They spent many of their early years of marriage in Spring Valley, CA where Chris worked as an engineer for Rohr Aircraft. In May of 1973 he moved his family to Yankton, SD. Here he began a new career as a jeweler and co-owner (eventually owner) of Meredith's Jewelry.
Chris enjoyed ballroom dancing, following all the activities of his granddaughters, fishing and spending time with his family and friends. He was a Past Exalted Ruler of the Elks Lodge and an active member of the First United Methodist Church.
Chris's memory is cherished by his wife of 56 years, Sherril; his daughter, Kathy (Ray) Campbell of Yankton, SD; son, Dennis of San Jose, CA; his granddaughters: Kristal Campbell of Sioux Falls, SD, Rochelle Campbell of Denver, CO, Abiane Campbell of Denver, CO, Stephanie Campbell, student of NSU in Aberdeen, SD, and his brother, Ted J. (Mary Ann) Christensen of Oxnard, CA, and family.
He was preceded in death by his mother, Louise (Bauer) Christensen, grandson, Gabriel Lee Campbell, and many aunts and uncles.