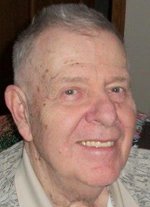 Obituary of Roman Honner
Roman George Honner, 85, of Tabor passed away Wednesday May 1, 2013 at the Tyndall Good Samaritan Center.
Mass of Christian Burial will be 10:30 am Monday, May 6, 2013 at the St. Wenceslaus Catholic Church, Tabor, SD with the Rev. Joe Forcelle officiating. Burial will be in the parish cemetery with Military Graveside Rites by Kortan-Hatwan American Legion Post # 183, Tabor, SD and the SDARNG Honor Guard, Sioux Falls, SD. Visitations will begin at 5 pm Sunday evening at the Opsahl-Kostel Memorial Chapel in Tabor with a Wake service at 7 pm. Visitations will resume one hour prior to the service at the memorial chapel. The Opsahl-Kostel Memorial Chapel, Tabor, is assisting with service details.
Roman George Honner was born on November 24, 1927 in Yankton, SD to Albert and Alice (Rokusek) Honner. He attended St. Wenceslaus Parochial Grade School, Tabor High School and graduated from Trinity High School in Sioux City, IA. Roman graduated from the University of South Dakota in 1949 and started to work with his father at the A.G. Honner Implement. He was drafted into the Army in 1950 and served until 1952 when he returned to the family business which included being a dealer of Pioneer Seed Corn.
He married Frances Bouska on June 9, 1953 at St. Wenceslaus Catholic Church, where he was a life-time member and sang in the Choir. He was also a member of the Kortan-Hatwan Legion Post, the Catholic Workman and 25 year member of the Tabor Bluebird Baseball Team. He enjoyed hobbies of goose hunting and fishing and following the activities of his children and grandchildren.
He is survived by his wife Frances and sons, Richard (Rita) of Tabor, SD, Don (Jodie), David (Tonia) and Joseph (Rachael) of Sioux Falls, SD and a daughter Mary Frances (Dave) Bitterman of Delmont, SD. There are thirteen grandchildren: Crystal and Jeff Honner, Elizabeth, Rebekah, Caleb and Anna Honner, Asia Collett, Benjamin, Alicen, Lucas and Jakob Honner, and Andrew and Catherine Bitterman and 1 great-grandson, Raymond Collett.
Roman was preceded in death by his parents, Albert & Alice Honner and one brother, Father Paschal (Don) Honner of St. Procopius Abbey in Lisle, IL.
In lieu of flowers, the family requests memorials directed to the Tabor Legion Post, P.O. Box 53, Tabor, SD 57063 or Queen of Peace at Trinity Heights, 2511 33rd Street, Sioux City, IA 51108.