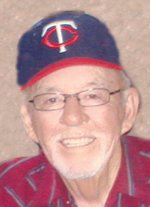 Obituary of Curtis Fisher
Curtis Arthur Fisher, died on May 3, 2013 at his home in Yankton, SD, surrounded by loved ones. He was 81 years old. Mass of Christian Burial will be 2:00 PM, Wednesday, May 8, 2013 at St. Benedict Catholic Church, Yankton with Rev. Ken Lulf officiating. Cremation will follow the Mass. Visitations will begin at 5:00 PM, Tuesday, May 7, 2013 with the family present at the Opsahl-Kostel Funeral Home and Crematory, Yankton. There will be a rosary at 7:00 PM followed by a Scripture service at 7:30 PM. Visitations will resume one hour prior to the service at the church.
Curtis Arthur Stirling Fisher was born in Bismarck, ND on December 17, 1931, son of Art and Lila (Stirling) Fisher. He was raised on a farm at Hazelton, ND. Curtis Fisher married Lorraine Keller on November 15, 1952 in Linton, ND and they just celebrated their 60th Wedding Anniversary. Together they lived in North and South Dakota, Iowa and Southeast Alaska. Curtis was a member of many groups and organizations and had served as church chairperson. He loved farming, was a meat cutter, a miner at Homestake Gold Mine, and loved the outdoors and bear hunting in Alaska. Curtis was a proud Democrat and an avid Minnesota Twins and Vikings fan.
Above all, his biggest love was his family whom he enjoyed spending time with and telling stories.
Grateful for sharing his life is his wife, Lorraine of Yankton, SD; his son, Steve Fisher of Yankton, SD; daughter, Linda (Donn) Larson of Hudson, SD; daughter, Sherry Fisher of Yankton, SD; daughter, Elaine (Roger) Gordon of Davenport, IA; son, Kevin (Cindy) Fisher of Mt. Pleasant, IA, and son, Duane Fisher of Kearney, MO., 18 grandchildren, 20 great grandchildren, 9 step grandchildren, a great great granddaughter and sister, Bessie Merkel of Mobridge, SD.
He was preceded in death by his parents, son, John Fisher, grandson, Drake Gordon, granddaughter, Stephanie Fisher, and sister, Nadine Moszer.