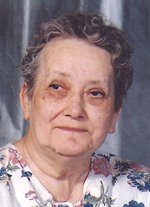 Obituary of Helen Kollars
Helen M. Kollars, age 80, of Yankton, SD passed away Tuesday, May 07, 2013 at Avera Sacred Heart Hospital, Yankton, SD from complications of Diabetes. Mass of Christian Burial will be 10:30 AM, Friday, May 10, 2013 at St. Wenceslaus Catholic Church, Tabor, with Rev. Ken Lulf officiating. Burial will be in the parish cemetery. Visitations will begin at 5:00 PM, Thursday, at the Opsahl-Kostel Memorial Chapel, Tabor, with a wake service at 7:00 PM. Visitations will resume one hour prior to the service at the chapel. Pallbearers are Jason Kollars, Chris Kollars, Dustin Kollars, Moses Waggoner, Keannan Simpson, Jared Zach, and Howard Waggoner.
Helen was born August 21, 1932 to Charles & Francis (Brinda) Estes. She grew up on the ranches near Valentine, NE. After graduating high school, she went to business school in Lincoln, NE where she worked in a government office. She was at a New Year's Eve dance where she met the man she was to marry. On December 1, 1951 she married Noel Kollars at Sacred Heart Church in Yankton. They moved to California in 1955, then back to South Dakota in 1958. She helped on the farm until she went to work at Gurney's in the mid 1970's and worked there until she retired. After retirement she and Noel enjoyed spending time with their children and grandchildren. Helen will be remembered for her wonderful meals, her love of cards, and her gentle humor. She loved to collect cookbooks, the color blue, and cooking and baking for her family.
Grateful to have shared her life are her children: Mike (Kathy) Kollars of McCook Lake, SD, Greg Kollars of Williston, ND, Mary Jo (Rockey) Waggoner of Yankton, SD, and John (Linda) Kollars of Bronson, IA; ten grandchildren; and eight great grandchildren.
She was preceded in death by her husband, Noel Kollars, her parents, four brothers, and one infant daughter.