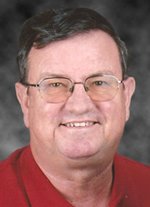 Obituary of James Watembach
James E. Watembach, age 68 of Yankton passed away Thursday, May 09, 2013 at the Avera Yankton Care Center, Yankton. Jim died of complications of a stroke in May 2010. Memorial Services will be at 2:30 PM, Monday, May 13, 2013 at St. Benedict Catholic Church, Yankton with Rev. Ken Lulf officiating. Private family burial will take place. Visitations will begin at 6 PM, Sunday, May 12, 2013 at the Opsahl-Kostel Funeral Home and Crematory, Yankton with a 7 PM rosary followed by a 7:30 PM Scripture service. Visitations will resume one hour prior to the service at the church.
James was born May 17, 1944 in Beach, ND to Harry and Delphine (Germann) Watembach in Beach, ND. He married Rose Dosch on October 24, 1964 at Holy Cross Catholic Church, Ipswich, SD.
James moved to South Dakota in the summer of 1961 and entered his Senior Year at Ipswich High School, Ipswich, SD. He received an A.A.S. at Southern State College in Springfield, SD in Diesel Technology in 1964 and a BS Degree in Vocational Teacher Education in Diesel Mechanics at USD, Springfield, SD in 1968. He worked at Lake County International in Madison, SD, John Deere/Baggs and Tamisiea at Yankton as technician and partsman. He moved to Waterloo, IA and taught at Hawkeye Tec Ag Equipment Mechanics and then moved to Springfield, SD to become Assistant Professor of Mechanical Technology at USDS/Springfield or Southern State College. With the oncoming closing of the college at Springfield, he became salesman, then sales manager at Yankton Equipment (formerly Baggs and Tamisiea, Inc.). He was then employed at Gateway in Vermillion as outbound sales associate, Climer Trucking in Hartington, NE and Johnson Feed Trucking in Canton, SD until retirement.
He is survived by his wife, Rose; children: Jarrod (Stacy) Watembach and children, Tyler and Tiffany of Alexandria, SD, Wade (Wendy) Watembach and children, Jake and Scott of Fountain, CO, Monte (Sonja) Watembach and children, Rylan and Braden of Sioux Falls, SD; and sisters: Karen Watembach of Sheridan, WY, Rita (Marlin) Stubbe of Brandon, SD, and Mari Molseed of West Union, IA.
He was preceded in death by his parents and sister, Denise.