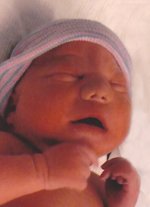 Obituary of Nyle Petersen
Nyle Thomas Petersen was born to Matthew and Adrianna Petersen on Tuesday May 14, 2013 at 1:36 pm weighing 6 pounds 14 ounces 18 inches long. At 5pm Nyle became mommy and daddy's little guardian angel due to Trisomy 13. Defying the odds he came into this world eager to experience as much as possible. Nyle was very alert to his surroundings. All of his family was honored to hear his coo's of joy and happiness to be in the arms of the people who loved him most.
Private family services will be held. Burial will be in the ZCBJ Cemetery, Tabor, SD. Opsahl-Kostel Memorial Chapel in Tabor is in care of the arrangements.
Nyle is survived by his parents, Matthew and Adrianna Petersen of Tabor, SD; Paternal Grandparents, Steven and Kristi Petersen of Tabor, SD; Maternal Grandparents: Tricia (Shawn Berrigan) Szathmary of Tyndall, SD and Thomas (Kristie) Brennan of Hesperia, CA; Paternal Great Grandparents: Patricia(David) Nissen of Westminster, SC and Marv(Linda) Tronvold of Yankton, SD; Maternal Great Grandparents: Barbara(Willis) Grant of Springfield, SD, John(Sun) Szathmary of West Wendover, NV Charlene(Richard) Peel of Paragould, AR, and John Brennan of Redwood Valley, CA; Maternal Great Great Grandfather, Edwin Lihs of Tyndall, SD and numerous aunts, uncles and cousins.