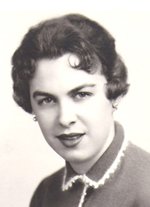 Obituary of Marilyn A. Cooley
Marilyn A. Cooley, age 75 of Yankton died in her sleep at her home on Friday, August 16, 2013. Memorial services will be at 4 PM, Friday, August 23, 2013 at the Opsahl-Kostel Funeral Chapel, Yankton with Chaplain Mary Hochstein officiating. Visitations will be one hour prior to the service at the funeral home with a lunch to follow the service. A private family burial will be in the Yankton Cemetery.
Marilyn was born March 4, 1938, in Yankton to Wesley and Elsie (Mitchell) Novotny. She married James Herschel Cooley of Huron on December 3, 1957 in Sioux Falls, SD. They lived in Fairmont, MN and Parkston, SD, before moving to Yankton in 1966. They had been married nearly 50 years when he died in 2007 after a long illness.
Marilyn graduated from Mount Marty High School in 1956 and attended Loretto Heights College in Denver, CO and Mount Marty College. She received her bachelor's degree in elementary education from Yankton College in 1971, and she taught at Stewart and Webster Schools in Yankton and in Menomonee, NE before joining the staff at Avera Sacred Heart Hospital. She worked as a switchboard operator there and extended her loving care and compassion to patients and their families for 32 years before retiring in 2010.
Marilyn was a descendant of the Frick and Arend families, who were among the first settlers of Dakota Territory. She shared a love of Yankton's history and family genealogy with her husband. She also enjoyed reading, gardening and traveling to Arizona and California and had a lifelong interest in health care, learning disabilities, antiques, current events and the weather.
She was a member of the Dakota Territorial Historical Society and Beta Sigma Phi sorority.
Marilyn's main interest was her grandchildren and great-grandchildren, and she loved to see them every chance that she could. She said, "They make my life worth living."
She is survived by her three daughters: Karen Cooley (Martin Kouma) of Carlsbad, CA, Kellie Koletzky (Dave Poppe) of Yankton, SD, and Lia Azeal (Candace Lowell) of Venice, CA; five grandchildren: Daniel Koletzky, Dusty (Sherri) Koletzky of Yankton, SD, Marshall Cooley, Michelle Cooley and Johna Koch, all of Boise, ID; six great-grandchildren: Cavan Cooley of Boise, ID, Caid, Kobe, Kalli, Kinsley and Kami Koletzky, all of Yankton, SD; brothers, Wesley "Bud" Novotny, and William (Mary) Novotny, both of Phoenix, AZ; sister, Jean Novotny of Phoenix, AZ; five nieces, seven nephews; her sons' widows, Deb Cooley Koch of Boise, ID and Illiana Ruiz-Cooley of Santa Cruz., CA; and two aunts, Leona Bouska of Yankton, SD, Marguerite Brown of Florence, OR; and uncle, Alfred (Marge) Novotny of Tyndall, SD
She was preceded in death by her mother in 1997 and her father in 2001; her husband, Jim in 2007, her three sons, infant son Christopher in 1966, John Herschel in 1991 and James Jay in 2007; and an infant grandson, Ronald Koletzky Jr. in 1979.
Memorials can be directed to some of her favorite charities: Graves Disease Foundation, P. O. Box 2793, Rancho Santa Fee CA 92067; HHT Foundation, P. O. Box 329, Monkton, MD 21111; American Cancer Society, 4904 S. Technopolis Drive, Sioux Falls, SD 57106; Benedictine Health Foundation, 1000 West Fourth Street, Suite 14, Yankton, SD 57078; and the Yankton Historical Society, 610 Summit, Yankton, SD 57078.