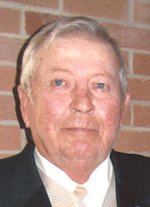 Obituary of Gerald A. Weber
Gerald A. "Jerry" Weber, age 72 of Gayville passed away unexpectedly at his residence on August 9, 2013. Memorial services will be 2 PM, Monday, August 26, 2013 at the Opsahl-Kostel Funeral Chapel, Yankton with Rev. Ralph Egbert officiating. The family invites everyone to refreshments immediately following the service. Burial of Jerry's cremated remains will be in the Garden of Memories later. Visitations will be one hour prior to the service at the funeral home.
Jerry was born March 9, 1941 on the family farm north of Lesterville to Alvin and Florence (Mutschelknaus) Weber. Jerry was baptized and confirmed at Petersburg Congregational Church, rural Lesterville. The oldest of three; he attended Northstar Country School and graduated from Scotland High School in 1959.
After attending South Dakota School of Mines, Jerry married Twila Jerke in Scotland. To this union four children were born: Jeffery, Todd, Jason, and Alison. The couple lived in Estherville, IA, where Jerry worked as a sales representative for Golden Sun Feeds. The family returned to Lesterville in 1970, where Jerry farmed and joined his father in the family business, Weber Grain and Feed.
Jerry was a member and taught Sunday school at Zion Lutheran Church, Scotland SD. He also served on the Scotland School Board and was a member of the Lesterville Athletic Association. After moving to Gayville, Jerry was a member of Gayville Lutheran Church.
Jerry had a great love for sports at all levels but particularly local sports. One of those sports being baseball, Jerry grew up playing baseball in Lesterville and spent several years managing Lesterville's amateur team, the Lesterville Broncs.
While living in Gayville he enjoyed gardening, having his morning coffee and visiting with friends. However, most of all, his family was what he enjoyed and treasured most. Whether it was ice cream or a donut with sprinkles, Grandpa Jerry never showed up empty-handed.
Jerry is survived by his four children: Jeff Weber of Dallas, TX, Todd (Julie) Weber of Corvallis, OR, Jason (Joni) Weber of Shawnee, KS and Alison (Torrey) Sundall of Sioux Falls, SD; seven grandchildren: Zachary, Elias, Christopher, Sophia, Max, Easton and Griffynn; his former wife, Twila of Sioux Falls, SD; his sister, Cheryl McDonnel of Sioux Falls, SD; his sister-in-law, Carol Weber of Grapevine, TX and seven nephews and nieces.
He was preceded in death by his father, Alvin in 1988, his brother, John in 2007 and his mother, Florence in 2012.