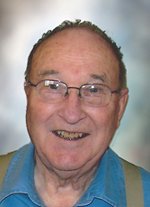 Obituary of Raleigh M. Kollars
Raleigh M. Kollars passed away on August 29, 2013 at his home in Yankton, SD. There will be a private family service to be held at a later date. Opsahl-Kostel Funeral Home & Crematory, Yankton, is in charge of arrangements.
Raleigh was born March 23, 1929 at Fordyce, NE to Edward and Clara (Schaefer) Kollars. He attended elementary schools in Fordyce and Crofton, and graduated from Yankton High School. After graduation, he joined the U.S. Army and was stationed at General MacArthurs Headquarters in Tokyo, Japan. He was honorably discharged and began working at the Corps of Engineers' Office at Pickstown, SD and then transferred to Hastings, NE. On May 20, 1950 he was united in marriage to Joyce Marie Hjerreld. To this union, three children were born: daughters, Julie and Jan, and son, Dean. Upon his return to Yankton, he worked several jobs until starting his hearing aid business, which he operated for 46 years.
Raleigh was a selfless man devoted to his family and his business. He loved riding his bicycle and reading.
He is survived by his wife, Joyce of Yankton, SD; daughter, Jan (Barry) Boeckman of Yankton, SD; son, Dean Kollars of Sioux City, IA; grandchildren, Troy (Jodi) Fiedler of Crystal, MN, Crystal (Babar) Chaudhry of Chicago, IL, and Michael Kollars-Plooster of Yankton, SD; and three great-grandchildren: Julie and Maximilian Fiedler and Kaiden Dean Chaudhry.