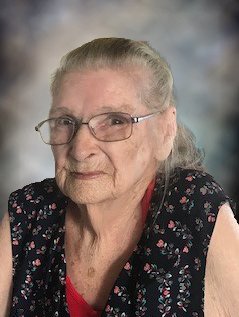 Obituary of Ella M. Brewer
Ella was born on June 8, 1928 to Walter and Inez (Thompson) Taggart in Wynot, NE. She married Gale J. Brewer on August 24, 1950 in Vermillion, SD. Ella worked as a waitress for many years at the H&K Café and later for Walt's BBQ Pit. Granny enjoyed "playing the machines" and every Sunday night she played BINGO at the VFW. Granny also enjoyed cooking, baking, and canning in her earlier years. Granny's door was always open for anyone who needed something to eat or a place to stay, or just for a little chat and a cup of coffee. Wherever Granny was, you'd be sure to find a grandchild not far behind. She was a caretaker of many without question, and even though you may not have everything you wanted, she made sure you had everything you needed. When granny was born, they broke the mold. She will be missed by everyone whose lives she touched.
Ella is survived by her sons: Ronald Brewer, Larry Brewer and William Brewer, all of Sioux Falls, SD.; 12 grandchildren: Gail (Tony) Buehlmann Jr., Katie Sherman (Jason), Billie Jo Brewer, Kayla Jo Brewer, Tori Brewer, Miranda Molsom, Jeremy Eels, Justin Brewer (Amanda), Tiffany Brewer, Sherry Brewer-Rempp, Patrick Brewer and Paul Brewer; 21 great-grandchildren; 2 great-great grandchildren and sisters: Mabel, Betty and Rose.
Ella was preceded in death by her husband Gale J. Brewer; parents; daughter, Deborah Jean (Brewer) Sherman and many brothers and sisters.