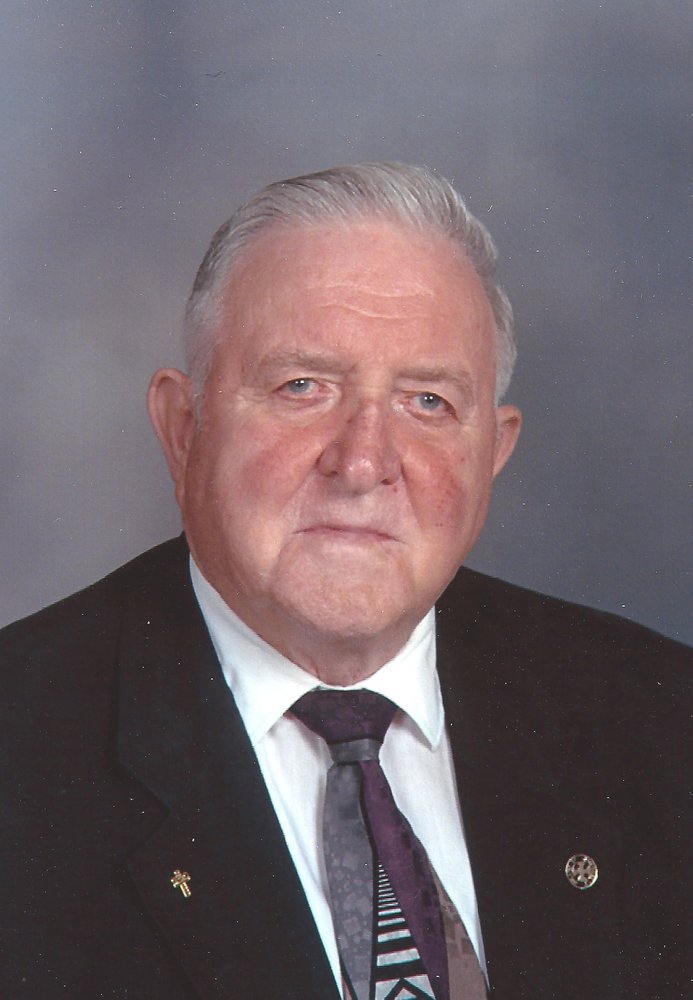 Obituary of Luverne E Lange
Luverne "Bud" Lange, age 95 of Yankton, SD passed away peacefully on Sunday, October 7, 2018 at Avera Sister James Care Center in Yankton with his family present.
Pallbearers are Adam Lange, Justin Eskens, Tyler Eskens, Weston Schwartz, Curt Jonas, and Greg Cardwell.
Luverne (Bud) was born on July 9, 1923 west of Crofton, Nebraska to Joseph and Cecilia (Schrempp) Lange. His oldest sister was two when he was born, she was unable to say baby brother and it came out as baby "Buddy." Hence the nickname 'Bud' became a lasting name. Bud attended country school west of Crofton and graduated from Crofton High School in 1941. He attended Frye Aircraft School in Omaha, Nebraska for several months and worked in sheet-metal at Patterson Airfield in Dayton, Ohio in 1942. In 1943 he returned to Nebraska and started working for his uncles on their farms.
In the late 40's, Bud and his brother Quintin bought the farm from their father near Menomonee, Nebraska and farmed in partnership. At that time the brothers also did trench-digging to supplement their farming efforts. In 1959, they bought another farm northeast of Hartington and continued their partnership. The brothers raised hogs and cattle, and milked cows over the years. Bud enjoyed going to dances and belonged to the bowling league in Yankton for numerous years. He married Mary Mack in August of 1971. Bud was blessed with a gifted voice and loved to sing. He was a member of the St. Boniface Catholic Church choir in Menominee for over 50 years and was also in a couple of musical plays. In 1973, Bud and a dozen other men started the musical group known as 'The Men of Note.' The group was together for 17 years. Bud was the last lone survivor.
In 1981, the brothers had a dairy sale which then allowed Bud and Mary to travel. They loved to travel and went on several overseas vacations and cruises. In 1987, Quintin passed away however Bud continued to do minor farming. In 1998, Bud and Mary sold their farm and moved to Yankton. They were strong in their Catholic faith and went to daily Mass. Bud and Mary assisted with church ministries in both Sacred Heart Catholic Church in Yankton and St. Boniface Catholic Church in Menominee. Over the years, they were very generous to the less fortunate in numerous ways. They did a great deal of volunteer work. Bud and Mary were strong supporters to Catholic education. Mary passed away in August of 2007. Two weeks later, Bud moved to a townhouse by Majestic Bluffs. His brother, Fr. Tim moved in with him the following Spring. Bud moved to the Majestic Bluffs Sister James Nursing home in July of 2015 and remained there until his death.
Bud was a member of the Sacred Heart Catholic Church in Yankton and a former member of the St. Boniface Catholic Church in Menominee. He was a long-time member of the Knights of Columbus and Catholic Order of Foresters. Bud was a former Parish Council Member, Parish Council President, a Board Member of the Crofton Fire Department, and various Church organizations.
Bud is survived by two sisters, Verda Cardwell and Audrey Jonas. His nieces and nephews, Mary (Jonas) Wallen, Lance Jonas, Anne (Cardwell) Hopfer, Cynthia (Lange) Stratman, Tamara (Lange) Eskens, Cecilia Cardwell, Greg Cardwell, Curt Jonas, and Beth (Lange) Kunzie, numerous great nieces and nephews and great-great nieces and nephews.
Bud was preceded in death by his wife, Mary, his parents, his brothers, Quintin and Fr. Tim, nephews, Paul Jonas and Bradley Lange. Brother-in-laws, Lester Cardwell and George Jonas, and sister-in law, Antonette Lange.