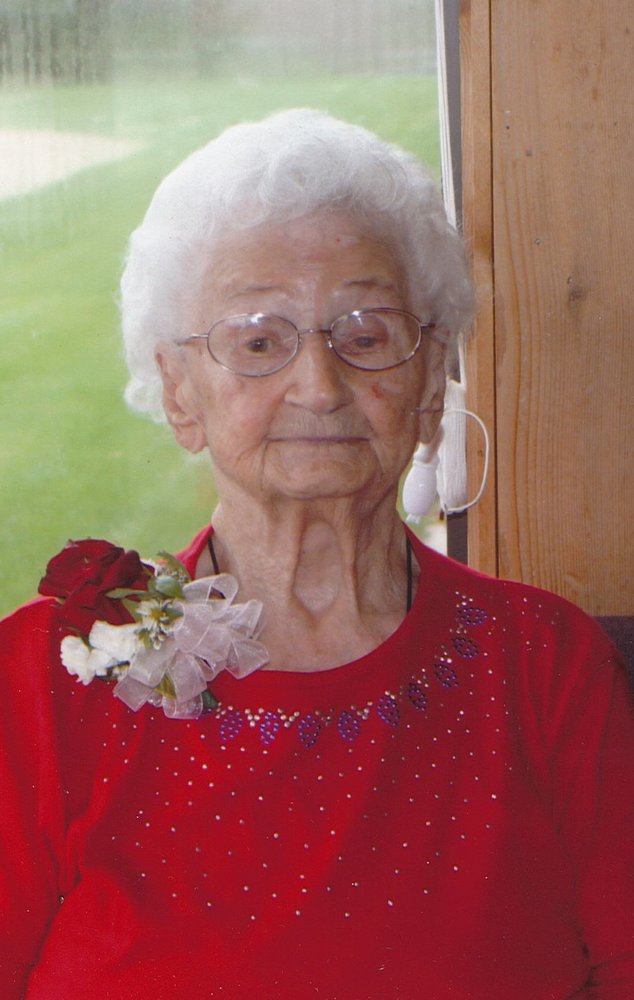 Obituary of Anna Ulmer
Anna was born May 10, 1915 to Stanley "Stiny" and Agnes (Schuch) Carda on a farm northeast of Tyndall, SD. She completed 8 years of education at the rural farm school, Steckly Elementary, in Tyndall. She married Jerry Adam in St. Wensceslaus Catholic Church in Tabor, SD in September 1932 and they started farming four miles east of Tabor. In 1934, they moved to a farm eight miles southwest of Tabor until they quit farming and moved to Yankton due to Jerry's ill health. She then went to work at different places in town and worked as a caregiver. Jerry passed away in 1961. She later married Herman "Bud" Ulmer in 1964 and lived on a farm in Menno until they retired and moved to Yankton until his death in 1985.
Anna enjoyed her life as a homemaker, farming and gardening. She liked to dance, golf and travel. She also enjoyed entertaining in her home, always offering food, especially her famous kolaches. She loved to be with and loved all her grandchildren at their parties, birthdays, weddings, etc. She loved to volunteer at Avera Sacred Heart Hospital as much as possible. Anna was a member of Sacred Heart Catholic Church, Catholic Daughters of America, Royal Neighbor, American Legion Auxillary, Avera Sacred Heart Hospital Auxillary, Czech Heritage and Ladies' Altar Society.
Anna passes with cherished memories of her family: Children's spouses: Sharon Adam, Kenneth Halls and Evelyn Adam; 2 sisters, Irene Kocer and Agnes Kocer; 17 grandchildren; 50 great grandchildren; 54 great, great grandchildren; nieces and nephews over 4 generations.
Anna was preceeded in death by her 2 husbands, Jerry Adam and Herman Ulmer; 3 children: James Adam, Florence Halls and Tommy Adam; 5 sisters, Nettie Carda, Vincie Adam, Mary Cap, Betty Kocer and Alice Rotchadl; all 6 of her brothers-in-law and 2 grandsons.
In lieu of flowers, the family will direct memorial donations to multiple organizations.