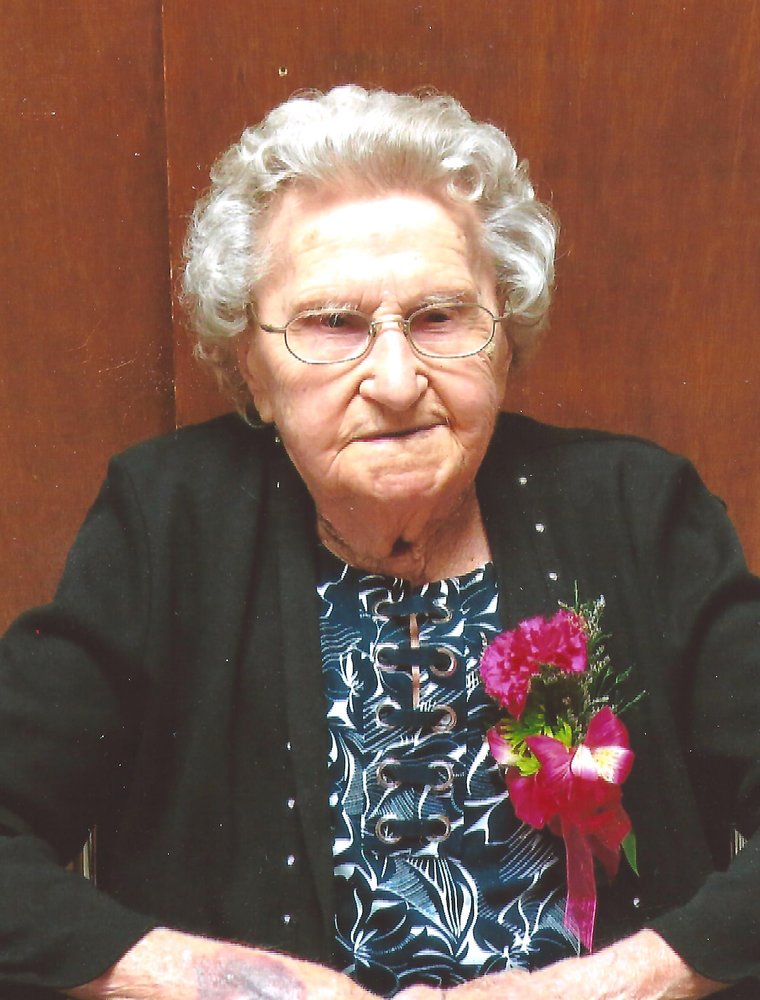 Obituary of Linda Bezug
BEZUG LINDA
Linda Bezug, age 107 of Menno, SD passed away Monday, June 04, 2018 at the Menno-Olivet Care Center, Menno, SD. Funeral services will be 10:30 AM, Friday, June 8, 2018 at Grace Lutheran Church, Menno, SD with Rev. Theresa Jacobson officiating. Burial will be in the Menno Cemetery, Menno, SD. Visitations will be 5 to 8 PM, Thursday, at the Aisenbrey-Opsahl-Kostel Memorial Chapel, Menno, SD and then one hour prior to the service at the church. On line condolences may be sent at: www.opsahl-kostelfuneralhome.com. Her pallbearers will be Jay D. Edelman, Justin Edelman, Glennis Stern, Lloyd Twedt, Larry Twedt, and Lyle Twedt.
Linda was born May 22, 1911 in Menno, SD to Emanuel and Christina (Quast) Redman. She was baptized on July 30, 1911 at Peace Lutheran Church by Rev. Briest and confirmed on July 19, 1925 at Grace Lutheran Church by Rev. Heuer. Linda married Jacob Bezug on February 18, 1934 at Grace Lutheran Church by Rev. Heuer and to this union, one child was born. Linda lived at the same place she was born her whole life until she entered Menno-Olivet Care Center in December 2011. She was fortunate to be of sound mind within days of her passing.
Linda is survived by her son, Larry (Lavonne); one grandchild, Brenda Edelman and three great­grandchildren: Jay, Cheyenne and Justin Edelman.
Linda was preceded in death by her husband, Jacob (February 26, 2000); her parents, 2 brothers, Gene & Gerhardt Redman and one sister, Lena Treick.