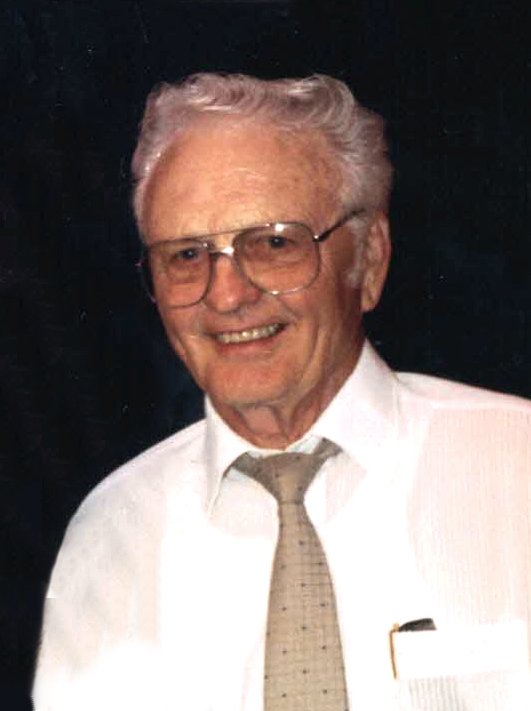 Obituary of Mervin Guthmiller
Mervin Ole Guthmiller was born January 28, 1922 to Albert and Mabel (Gullickson) Guthmiller in rural Menno, South Dakota. He was confirmed in his faith at Salem Lutheran Church in rural Freeman and graduated from Menno High School in 1940. He attended Freeman Junior College until he enlisted into the United States Navy in September, 1942. Mervin was honorably discharged from the service in March, 1946. Following the service, he attended South Dakota State College and graduated with his bachelors degree in 1950. Mervin was united in marriage to Betty Feragen in Madison, SD on June 4, 1950. To their union five children- Robert, Gail, Mary, Ann, and Mark were born.
Mervin began his career as a Veteran's Ag educator first at Oldham, SD and later in Menno, SD. Following his years as an educator he worked for the Pride Seed Company in several different sales positions over the next twenty-six years. His career led to moves with his family to Worthington, MN for seven years, and Lancaster, WI to serve as the General Sales Manager for the last eight years of his career. He retired in 1985 and he and his wife Betty moved back to Menno, SD.
For the next fifteen years Mervin was active in the formation and development of the Menno Pioneer Heritage Association, helping with the annual Menno Pioneer Power Show, and the development and maintenance of its property, Pioneer Acres. He became a resident of the Menno-Olivet Care Center in May, 2015.
Mervin is survived by his wife, Betty of Menno, SD; their children, Robert (Ana) Guthmiller of Torrance, CA, Mary (Bruce) Handel of Menno, SD, Ann (Jerry) Clough of Yankton, SD, and Mark (Pam) Guthmiller of Oregon, WI; their grandchildren, Jeremy (Denise) Handel, and Justin (Joanie) Handel of Menno, SD, Heather Guthmiller of Torrance, CA, and Megan Guthmiller of Oregon, WI; their great-grandchildren, Tyler Handel, Austin Handel Hailey Handel, Grant and Avery Handel, all of Menno, SD; and his sisters, Margery Sorensen of Brookings, SD and Lorraine Baltzer of Scotland, SD; other relatives and friends.
Mervin was preceded in death by his parents; his daughter, Gail Guthmiller; a sister, Irene Imig of Yankton, SD; and two brothers: Emmett Guthmiller of Sioux Falls, SD and Lavern Guthmiller of Manor, TX.