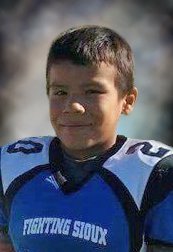 Obituary of Ty Brown
Ty Jeff Brown was born in Sioux City, Iowa on November 15, 2006 to Raymond Torrez and Olga Brown. Ty grew up and lived in Santee, Nebraska with his great grandmother Rita Brown-White. Ty was known to be a happy fun care free kid who lived life to the fullest . He loved basketball, football and camping and was voted the most outstanding camper last year. He was a very active member in the Santee Warriors Youth Lodge.
Ty is survived by his twin sister, Ty'Na Brown from Santee, NE,siblings, Liana, Laira & Jayden Vixaythong and Aurelia & Kameron Torrez of Sioux City, IA; great grandmother, Anna Babe Rogue; grandmother, Fern Saul; aunts, uncles and many cousins of Santee, Winnebago & Macy, NE.
Ty is preceded in death by his great-grandfathers, Stanley White Sr. and Joe Saul and grandfather, Jeff Brown.