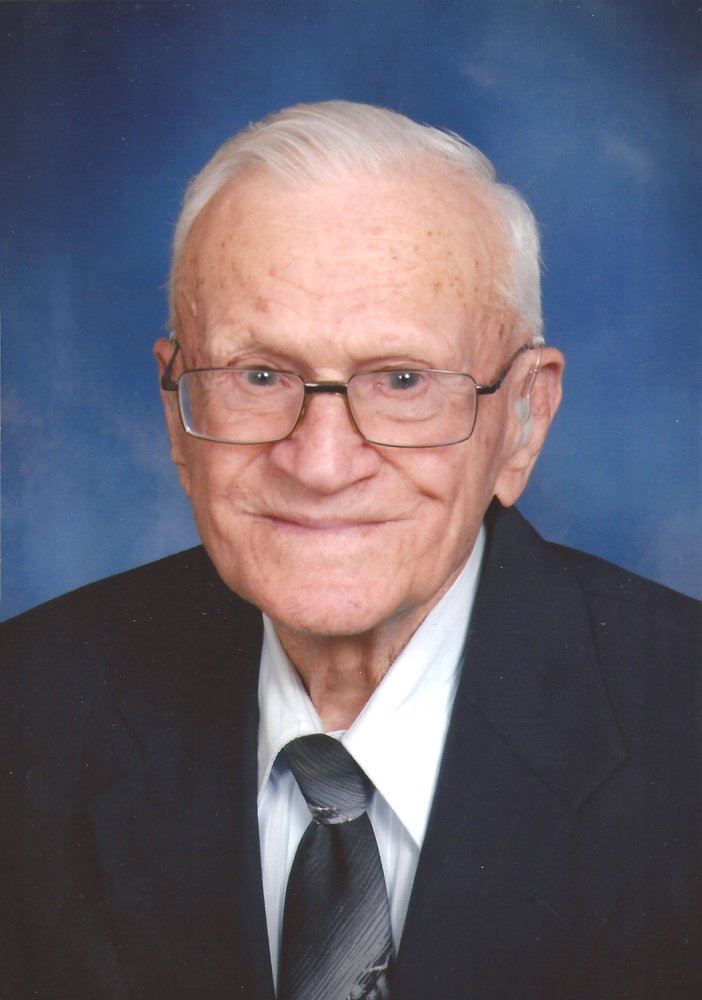 Obituary of Victor Mehlhaf
Victor Wilhelm Mehlhaf was born June 1, 1920 on a farm northeast of Menno, SD to Henry and Barbara (Schempp) Mehlhaf. He was baptized by Rev. M.C. Buettel at Kassel (Zion) Reformed Church, north of Menno and was confirmed by Rev. William Hueneman also at Kassel (Zion) Reformed Church where he remained a lifelong member. He faithfully served there as a Sunday school teacher, Trustee and choir member. Victor attended Hoff District #44 country school through 8th grade, but was a lifelong learner who impressed onto his children the value of education. Victor married Viola Weisser June 10, 1945 at Frieden's Reformed Church, Tripp, S.D. They settled on a farm site northeast of Menno near Victor's birthplace. With the help of Viola, he proceeded to farm land, raise livestock and build every structure on the farm over his lifetime. This union was blessed with five children: Betty, Dorothy, Deloris, Loren, Duane and 24 years of marriage until Viola's death, December 9, 1969.
On September 30, 1972 Victor married Arlene Weight Meyer and continued farming until moving to Menno in 1982. Together they were involved in community efforts until Arlene's death on December 3, 2006. Victor enjoyed many aspects of farming, becoming involved in Farmer's Union, National Farmers Organization, Farm Bureau and other farm related organizations. He served on the boards of Hutchinson County Soil Conservation and Freeman Community Hospital. He was an outgoing, friendly man who would cross the street to introduce himself to a stranger. Victor loved people, was extremely kindhearted, generous, patient and a man of integrity. Moreover he was a man of deep faith who brought his children and step-children to a saving knowledge of his Savior, Jesus Christ.
Victor is survived by his five children: Betty (Charles) Kauffman of Marshall, MN, Dorothy (Larry) Weigandt of Mitchell, SD, Deloris (Michael) Diede of Yankton, SD, Loren (Renee) Mehlhaf of Mitchell, SD, Dr. Duane (Jeanne) Mehlhaf of Vermillion, SD; grandchildren: Joy and Christopher Kauffman, Jamie, Bradley and Melanie Weigandt, Troy Diede, Shayna Quamen, Kelli and Haley Mehlhaf, Jillian Wolbrink, Derrick, Dietrich and Dexter Mehlhaf and Alicia Heiser; 17 great-grandchildren; step-children: Kathryn (Russell) Rosengren, LuEtta (Maynard) Kirchhevel, Coreen Friederich, Conrad (Erma) Meyer and Kurtis (Sue) Meyer; sisters: Ruth Mehlhaf, Caroline Roth; sister-in-law, Darlene Mehlhaf and many nieces and nephews.
Victor was preceded in death by his wife, Viola; wife, Arlene; grandson, Drake Mehlhaf in infancy; parents; brothers: Arthur, Ruben, Eugene, John; sisters, Esther Kirschenman and Viola Mehlhaf in infancy; brothers-in-law, Ernest Kirschenman, Raymond Roth and sisters-in-law, Leona and Lenora Mehlhaf and step-daughter, Sharon Bueber.
In lieu of flowers, the family prefers memorials be directed to Zion Reformed Sunday School and Youth program, 220 S. Pine Street, Menno, SD 57045.