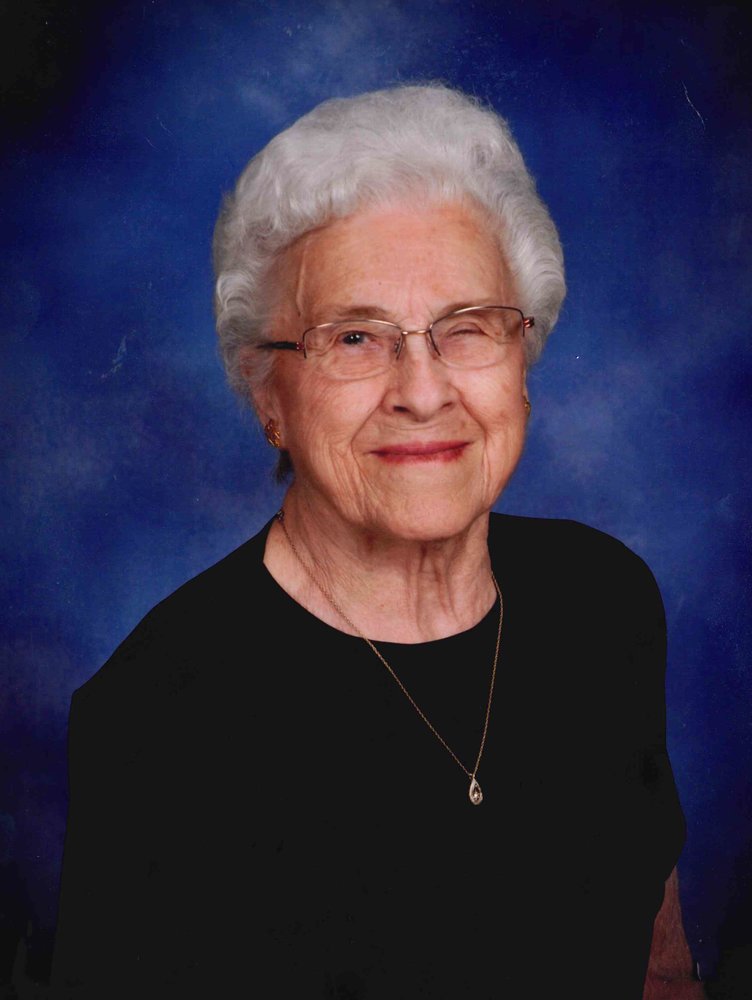 Obituary of Irene Zeeb
Irene Martha Schortzman was born on November 17, 1924 to Julius and Martha (Meyer) Schortzman in Alpena, SD. She married Peter E. Zeeb on October 3, 1943 and to this union two children were born, Barbara and Joann.
Irene and Peter farmed on the family farm outside of Menno. Irene enjoyed baking, sewing and gardening. Irene was involved in various church activities and volunteered in the community.
Irene is survived by her daughters, Barbara (Donald) Knittel of Freeman, SD and Joann (Ronald) Beaner of Sioux Falls, SD; eight grandchildren: Kelly Knittel of Freeman, SD, Julie Oxner of Sioux Fall, SD, Chad (Joni) Knittel of Freeman, SD, Ranae (Scott) Klutman of Sioux Falls, SD, Jennifer (Loren) Bevers of Sioux Falls, SD, Sherry (Chad) Rembold of Miller, SD, Kim (Chris) Carlson of Pierre, SD and Robert (Julie) Beaner of Sioux Falls, SD; sixteen great-grandchildren: Jerrod Schrader, Austin Oxner, Chais Oxner, Mackenzie Bevers, Alexis Bevers, Brent Klutman, Riley Knittel, Gideon Rembold, Alaric Knittel, Peter Rembold, Hadley Beaner, Sydney Carlson, Spencer Carlson, Rylan Beaner, Harper Beaner and Talia Rembold; one great-great-grandchild, Dalton Schrader; sister, Norma Christensen of Yankton, SD; two sisters-in-law, Erna Zeeb of Menno, SD and Irene Schortzman of Lesterville, SD and many nieces and nephews.
Irene was preceded in death by the love of her life, Peter; her parents, Julius and Martha Schortzman; her brother, Alton Schortzman; her mother and father-in-law, Martha and Henry Zeeb; brothers-in-law, Harold Zeeb, Ray Zeeb, Roland Mettler, Herman Redman and Kenneth Christensen and sisters-in-law, Evelyn Zeeb, Ardina Mettler and Anna Redman.