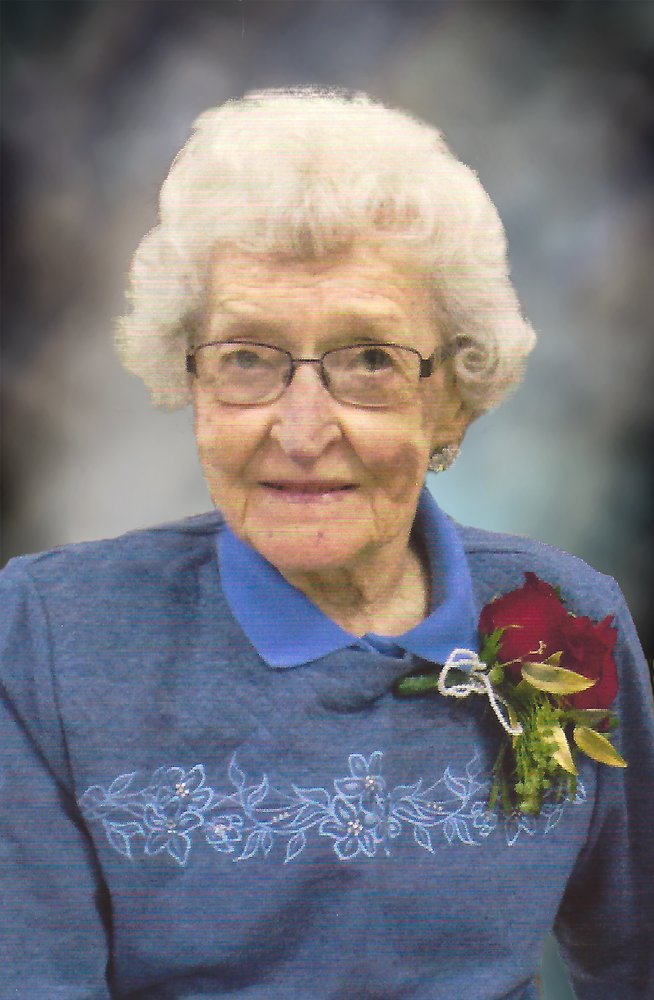 Obituary of Martha List
Martha P. (Schmelzel) List, age 101 of Yankton, SD passed away Thursday, July 6, 2017 at Autumn Winds Nursing Home, Yankton, SD. Mass of Christian Burial will be 10:30 AM, Thursday, July 13, 2017 at Sacred Heart Catholic Church, Yankton, SD with Rev. Larry Regynski officiating. Private family interment services will be held in the Garden of Memories, Yankton, SD. Visitations will begin at 4:00 PM, Wednesday, July 12, 2017 at the Opsahl-Kostel Funeral Home & Crematory, Yankton, SD with an American Legion Auxiliary Service at 6:30 PM, Rosary at 6:45 PM and a Scripture service at 7:00 PM. Visitations will resume one hour prior to the service at the church. On-line condolences may be sent at: www.opsahl-kostelfuneralhome.com.
Martha List was born on January 25, 1916 at Sacred Heart Hospital in Yankton, S.D. She was the third child born to Albert and Emilie (Ulmer) Schmelzel and was raised on farm near Lesterville. Her siblings were Clarence, Ervin and Luella. She liked telling stories about how she got in trouble for ruining the flour sack dresses that her mother had sewn for her. Martha really was a tomboy at heart, proven when she lost sight in her left eye after a corn cob fight with her brother.
Martha went to rural Utica School and Lesterville High school. She learned to drive a car in 1935. She loved to pitch softball with her best friend, Tracy List as catcher. It was Tracy who introduced her to her husband, Eugene J. List. Martha attended college at the Business School in Mitchell, riding the train to get back and forth. In Mitchell, she was a nanny for three boys to cover her room and board while attending college. One of her saddest days was when her father Albert and brother Ervin were killed in a car train accident in 1937.
Upon graduation, Martha started work as a secretary at Gurney's. After a long-distance courtship, she was married on February 23, 1938 to Eugene J. List in Lesterville Parish house. They moved to a farm near Utica and she became a farm wife, raising chickens, ducks and milking cows. They were blessed with three children: Eugene E. (Sonnie), Gloria and Dale.
They purchased their farm from DeJong in 1942. In 1952, they added running water, a propane stove, a furnace, air conditioner, television, and a new Ferguson tractor. In 1956, her husband went to work for Murphy Feed and then Federal Crop Insurance. He was gone during the week, which left her to tend to the farm and kids by herself. In 1958 her mother came to live with her family. In 1959, they moved to Yankton, where her husband purchased a home without her knowledge. They lived there for over 55 years.
In 1963, Martha went back to school at Yankton Business College for a bookkeeping and accounting degree. She then went to work at Montgomery Wards as a credit manager in 1965 and worked there until 1980. In the 1982, her beloved husband passed away. She then went to work for her grandson Wayne for Collection Trust for many years.
Martha started bowling when working at Montgomery Wards and continue bowling until she was 95 years old. She went to many National Bowling Tournaments throughout the United States.
Martha's husband came from a family of 12 children so there were many late nights playing pinochle at their home. If you stopped for a visit, you knew that the cards would be coming out. They also taught their grandkids to play pinochle. When she was in her 80's, she learned to play bridge at the Senior Center and later joined a card club.
Martha was always ready to play basketball with her grandkids in the driveway. She had a mean granny shot. The grandkids would always tease her about it, but that didn't stop her. She would still go out and play in her late nineties.
Martha was an active member of the Ladies Auxiliary, walking many parades and selling poppies until she was 100 years old. She and Gracie (her cat) moved into Autumn Winds in 2014 and lived there until her death.
Martha is survived by her 3 children: Eugene (Joyce) List of Yankton, SD, Gloria (Wayne) Pibal of Yankton, SD and Dale (Eileen) List of Pierre, SD; 6 grandchildren; 19 great-grandchildren and 4 great-great-grandchildren.
Martha was preceded in death by her husband, her parents, her 3 siblings, father and mother in-law, 26 brothers and sisters-in law; son-in-law, Wayne Pibal; 2 grandchildren, Wayne Pibal Jr. and Lesa (List) Nicholls.
Martha was a brave woman with a giant heart and a sharp wit. She lived her life to the fullest extent and the lessons she taught will forever be remembered. She will be missed by all who knew her.