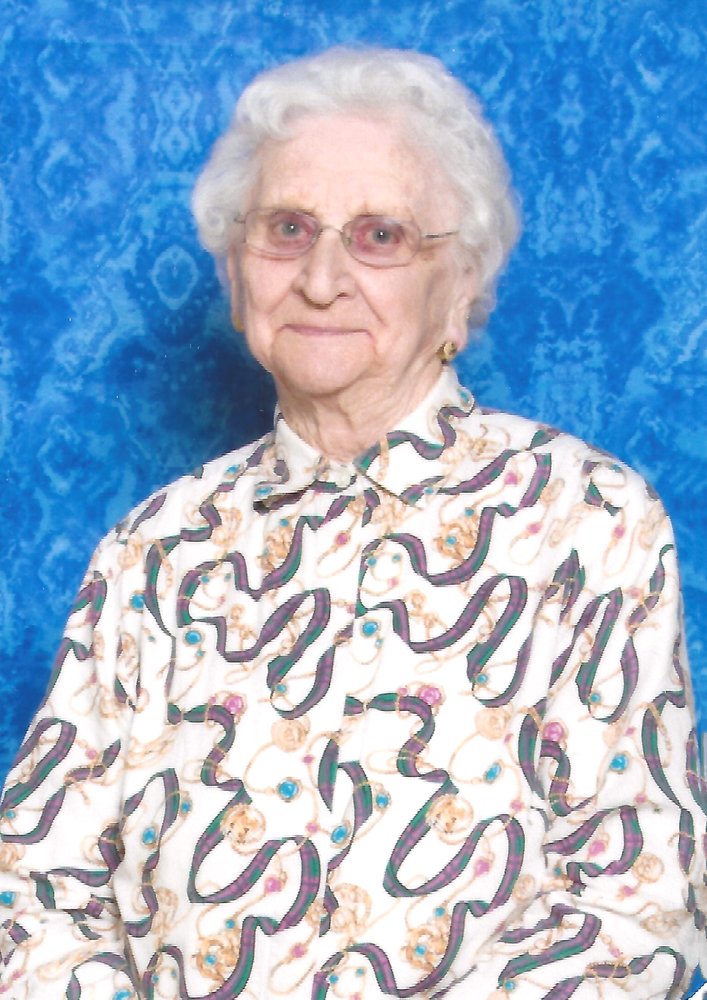 Obituary of Florence Vesely
VESELY, FLORENCE
Florence Vesely, age 93 of Tabor passed away Thursday, July 06, 2017 at the Avera Sister James Care Center, Yankton, SD. Mass of Christian Burial will be 10:30 AM, Monday, July 10, 2017 at St. Wenceslaus Catholic Church, Tabor, SD with Rev. Joe Forcelle officiating. Burial will be in the St. Wenceslaus Catholic Cemetery, Tabor, SD. Visitations will begin at 5:00 PM, Sunday, July 9, 2017 at St. Wenceslaus Catholic Church with a Rosary and Wake service at 7:00 PM. Visitations will resume one hour prior to the service at the church. The Opsahl-Kostel Memorial Chapel, Tabor, SD is assisting with the arrangements. On-line condolences may be sent at: www.opsahl-kostelfuneralhome.com.
Florence (Hale) Vesely was born on March 11, 1924 to Mike and Frances (Walloch) Hale on the family farm 1 ¼ miles East of Tabor, SD.
She was baptized and confirmed at St. Wenceslaus Catholic Church in Tabor and attended the St. Wenceslaus Catholic School in Tabor through the 8th grade. She attended Tabor High School and also helped on the family farm.
On December 29, 1942 she was united in marriage to Arthur Vesely at the St. Wenceslaus Catholic Parsonage in Tabor. Four children were born to this union; JoAnn, twins, Dennis and Donald, and Jeani. They lived and farmed on the Hale farm 1 ¼ miles East of Tabor for three years. In 1946, they moved on a farm 1 ¼ miles North of Tabor, which they later purchased and lived there until the death of her husband. In February of 2001, Florence moved into the Tabor Manor Apartments and lived there until she moved to the Springfield Assisted Living Center in Springfield, SD in March, 2015. In April, 2017, she relocated to Avera Sister James Care Center in Yankton and remained there until the time of her death.
She worked as a custodial helper at the Tabor Elementary School for five years. In 1995, she started working as a kitchen helper at the Tabor Nutrition Center until June 29, 2007 when she retired. Florence was a lifetime member of St. Wenceslaus Catholic Church, Ladies Altar Society, and Senior Citizens Center in Tabor.
Florence devoted her life to her family and faith. She enjoyed the time she was able to spend with her children and grandchildren and friends. She enjoyed reading, crocheting, and embroidering. She had a love for her Czech heritage and listening to Polka music. She was a very good kolache baker and always made sure there were plenty available for family gatherings. Florence showed kindness and concern to everyone she met and was a very loving mother, grandmother, and great-grandmother.
She is survived by her two children, Dennis Vesely of Tabor, SD and Jeani and husband, Steve Zavadil of Fordyce, NE; grandchildren, Laura and husband, Scott Welsh of Hartford, SD, Julie, Krista, and Blake Zavadil of Fordyce, NE; two great-grandchildren, Janaya and Kason Welsh; one sister, Anna Kloucek of Tabor, SD; sister-in-law, Lena Vesely of Verdigre, NE; and numerous nieces and nephews.
She is preceded in death by her husband, Arthur in October of 1997; one son Donald in September of 1963; daughter, JoAnn Vesely in December of 2012; her parents; two brothers, Oscar and Joseph Hale; and two sisters, Clara Caba in November of 2007 and Helen Rezac on July of 2017.