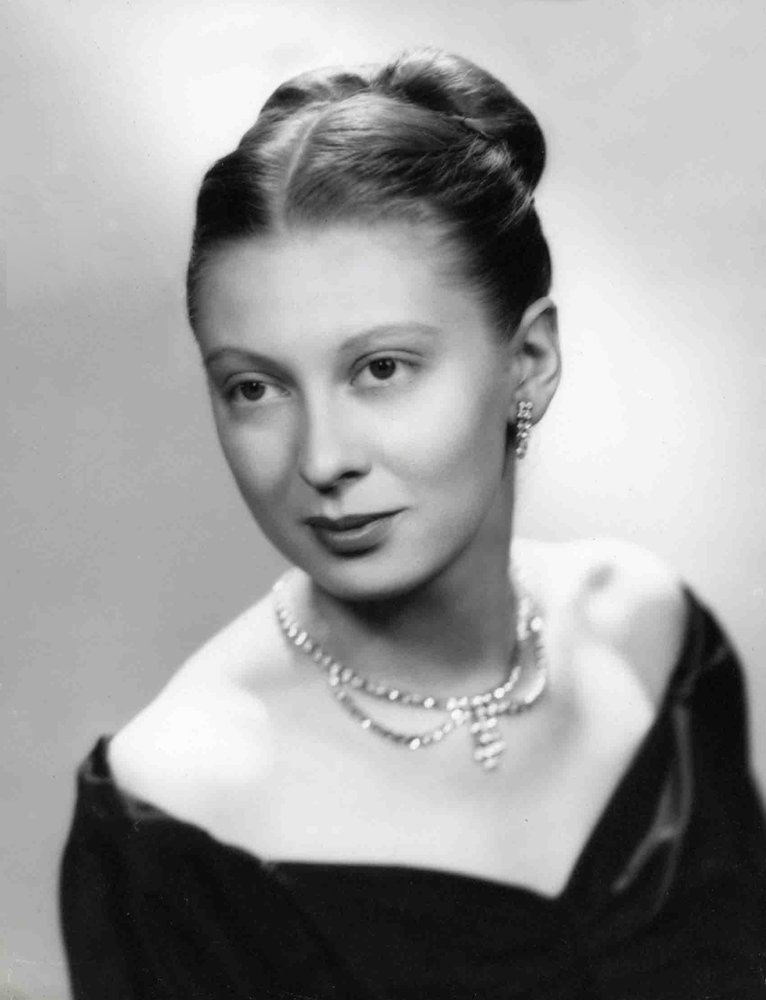 Obituary of Jo Ann Relf
Jo Ann passed away quietly on February 8, 2016 at the Coliseum Medical Center in Macon, Georgia. She was 85. A memorial service will be held at the Opsahl-Kostel Funeral Chapel, Tabor, SD on Monday, June 12, 2017 at 1:00 p.m. with Rev. Joel Finck officiating with a light lunch served afterward at the American Legion Hall. Visitation is from noon to 1:00 p.m. at the funeral chapel.
Jo Ann Helen Stepanek Relf was born on the evening of March 9, 1930 in her family home in Tabor, South Dakota to Charles C. and Helen D. Stepanek (Dvorak). She attended Tabor Public Schools and became involved in music and the piano at an early age through her mother and grandfather, Joseph Dvorak. She graduated from Tabor High School in 1948 and studied music (piano) at the Yankton College Conservatory, the University of South Dakota, and the LaMont School of Music at Denver University. While studying at the LaMont School of Music, she placed first in a piano scholarship competition for study with Alexander Raab, a Hungarian concert pianist who had studied at the Vienna Conservatory (Austria) with Leschetizky and had performed throughout Europe, Russia, and the United States. Mr. Raab invited her to come live with him and his wife in Berkeley, California and to study with him in the old European tradition. She moved to Berkeley in 1950 and began a 10-year program that would prepare her to become a concert pianist.
In 1951 she met her future husband, Kenneth Eldon Relf, of Flandreau, South Dakota through his father, who was doing carpentry work at the Raab house. The first date went well and they were married in Berkeley on June 12, 1952.
Kenneth graduated from the University of California in 1954 and the couple moved to Pittsburgh in 1955 for his first job. Jo Ann completed her B.F.A. in Public Performance (Piano – Highest Honors) at what is now Carnegie-Mellon University and became a faculty member there.
The space program was in its infancy in 1959 and Kenneth decided it would be exciting to be involved in it. In the spring of 1959 Kenneth, Jo Ann, and their nine-month-old son, Douglas, moved to Melbourne, Florida to work on the space program at Cape Kennedy. Their second son, Murray, was born in 1962 in Melbourne. Jo Ann quickly organized a private piano class and became heavily involved in organizing and judging piano competitions and recitals sponsored by the Brevard Music Teachers Association, Florida State Music Teachers Association, the Florida Federation of Music Clubs, Music Teachers National, the American Matthay Association, and the National Piano Guild. She was chairman at one time or another of all of these. She also took Master Classes with Webster Aiken (Schubert Recording Artist) and Leonard Eisner of Juilliard.
She was a Founders' Scholar at Carnegie-Mellon University, First Place Raab Audition recipient, and received the First Medal, National Piano Competition Festival. She was a member of Mu Phi Epsilon (honorary music sorority) and Alpha Lambda Delta (honorary scholastic society). Several of Jo Ann's students received full scholarships to study music at Stetson University, Southern Methodist University, the University of South Carolina, and the University of Florida.
The most rewarding aspect of her teaching was seeing her students grow professionally and personally. Many of her students stayed in touch with her throughout their lives and often visited her when in Melbourne. She had many friends and colleagues at Universities throughout the U.S. Many became lifetime friendships that enriched her life and sustained her in later years.
Jo Ann returned to Tabor every summer throughout her life to visit her friends and relatives. She especially enjoyed Czech Days and the opportunity it gave her to see friends and family. She was proud of her Czech heritage and continued to speak Czech with other Czech-speakers whenever possible. Czech Days and the family reunions surrounding Czech Days became part of her and her family's fondest memories. Her sons especially value those times and the opportunities it gave them to connect with their extended family and heritage.
She loved the mountains and went to them for solace, inspiration, and refreshment whenever she could. She especially loved Banff National Park in Canada and spent many hours walking the flower-filled trails around Bow, Emerald, and Moraine Lakes. She was also an avid bird watcher and she and Kenneth spent many Sunday afternoons at the Merritt Island National Wildlife Refuge near Titusville, Florida.
She is survived by her two sons, Douglas and Murray, both of Macon. She was preceded in death by her husband, Kenneth, on December 21, 2013.