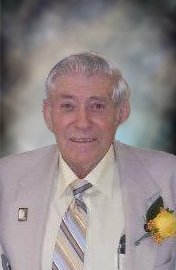 Obituary of LaVern Aisenbrey
LaVern R. Aisenbrey, age 85 of Freeman, SD passed away Sunday, May 21, 2017 at Oakview Terrace Care Center, Freeman, SD. Funeral services will be 10:00 AM, Thursday, May 25, 2017 at Bethlehem Reformed OPC, Freeman, SD with Rev. Louie Cloete officiating. Burial will be in the Menno Cemetery with Military graveside rites the Rames-Bender American Legion Post #152 Honor Guard and the SDARNGHG. Visitations will be 5 to 7 PM, Wednesday, May 24, 2017 at the Aisenbrey-Opsahl-Kostel Memorial Chapel, Menno, SD and then one hour prior to the service at the church. On-line condolences may be sent at: www.opsahl-kostelfuneralhome.com.
LaVern was born on December 2, 1931 to Herbert and Edna (nee Metter) Aisenbrey on the family farm near Freeman. He was joined by his siblings Inez, Donley and Carl. His mother died from childbirth complications, so at 6 years old he became his dad's helper. He was baptized by Rev. William Huenemann on March 13, 1932, at Zion Reformed Church and confirmed by Rev. William Korn on June 29, 1947. He attended Pleasant Hill country school through the 8th grade where he met his best friend Alice Johnson.
After eighth grade, he worked on the family farm until he was drafted into the army on January 14, 1953. He married his childhood sweetheart, Alice, on January 4, 1953, before going to basic training in Fort Leonard Wood, MO. It was with great pride that he served his country in the Korean War. He was honorably discharged on December 31, 1954. After his discharge, he returned to the family farm where he, his dad, and brother Donley continued to farm. LaVern drove truck with his dad hauling livestock and grain. LaVern and Alice moved to their farm in January, 1955 where they raised 4 children – Nancy, Lindsey, James and Steven. They continued to farm until health forced him to retire to Menno in November, 1999. After moving to town, he worked for Cenex, Mettler Fertilizer, and the Menno School District. He spoke often for his love of driving the school bus and working with children. Some of his proudest moments were attending graduation for the students he transported. He spoke fondly of his former students recognizing him and spending time with him. In November, 2016 they moved to the Salem Mennonite Home in Freeman.
LaVern loved spending time with his family, playing pinochle and pool. He especially loved telling a good story and making people laugh. The more he teased you and you accepted it as good natured humor, the more he respected you. He also enjoyed driving around Menno in his golf cart, visiting with friends on his jaunts around town.
LaVern proudly served in the Menno American Legion for 51 years. He also served as a director of the Farmers Union State Executive Board for 18 years, the Wittenberg Township Board, Menno Rural Telephone Board, Pleasant Hill School Board, church Sunday school teacher and choir member, Community Mens Chorus, mentored inmates at the state prison, and volunteered for many activities around Menno. In 1994, he ran for the District 19 House of Representatives. In 2016, LaVern was one of three Menno veterans to receive the Korean Ambassador for Peace Medal.
Cherishing his memory are his wife of 64 years, Alice; his daughter, Nancy (Larry) Christopherson of Spearfish, SD; sons, James (June) Aisenbrey of Baltic, SD, Steve Aisenbrey of Rapid City, SD; daughter-in-law, Barb Aisenbrey of Ethan, SD; grandchildren: Emily Robison, Eric Aisenbrey, Marie Palmer, Toni Aisenbrey, Cameron Aisenbrey, Marc Aisenbrey, Lindsey Loftus, and Whitney Aisenbrey; great-grandchildren: Trinity and Treyton Palmer, Emerson and Luca Aisenbrey and Aiden and Erik Loftus; sister, Inez (Herman) Wipf; brothers: Donley (Carol) Aisenbrey and Carl (Barb) Aisenbrey; sisters-in-laws, Mavis Boekhoff and Faye Simek and numerous nieces and nephews.
Preceding him in death were his parents and his son, Lindsey.