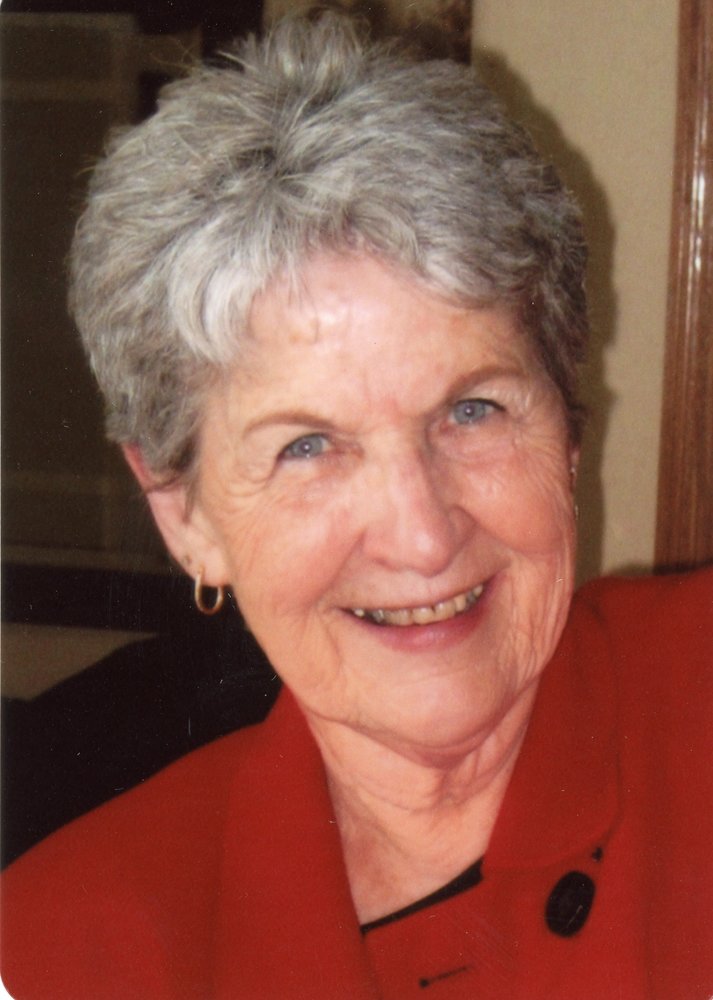 Obituary of Darlene Schempp
Darlene was born on October 28, 1932 in rural Menno, South Dakota to Hildebert and Martha (Schaeffer) Guericke. She attended rural elementary school, graduated from Menno High School in 1950 and from Stewart's School of Hairdressing in 1961.
On April 22, 1951, Darlene married Ervin Schempp, living most of their married lives in the Menno area. They enjoyed playing cards with the neighbors, taking their children on annual trips to the Black Hills (after the bean walking was done), and attending their grandchildrens' activities.
Darlene was a successful business woman. She operated a beauty salon in her home for many years. In 1977 she became an insurance agent, laying the foundation for AFLAC in South Dakota for the next 30 years. She was proud of the work she did, and her family was proud of her.
Darlene was baptized, confirmed, and married at Immanuel Lutheran Church in Menno. After marriage she and Ervin joined Grace Lutheran Church. Darlene served on the church council and taught Sunday school as well as served as Sunday school superintendent for many years. Currently, she was a volunteer for Meals on Wheels and was a willing helper for the women's group at church.
Darlene loved being a grandma and great-grandma, speaking often of the blessings these children brought to her life. Even the great grandchildren had a personal relationship with grandma. She faithfully prayed for her family.
Darlene and Ervin left this life the same dates they brought life. Darlene died on June 3, the birthday of their son, Jon and grandson, Ryan. Ervin died ten years earlier on April 12, the birthday of their daughter, Monica.
For the last several years, Darlene has found love and companionship with long-time friend, Eddie Auch, also of Menno. Together they danced, fished, and enjoyed many school and family activities.
Darlene is survived by her children: Monica (Gary) Huber of Sioux Falls, SD, Jody (William) Kludt of Lesterville, SD, Jon (Carlotta Carr) Schempp of Menno, SD; 12 grandchildren: Kristin Detert, Emily Walloch, Ryan Huber, Bryan Kludt, Ty Huber, Levi Kludt, Brooke Tavajian, Richard Kludt, Garrett Schempp, Kaylie Schempp, Salomé Carr, Julius Carr; as well as 18 great-grandchildren. She is also survived by Edwin Auch and his family; sister-in-law, Adeline Schempp; brother-in-law, Harold Wollman and many nieces and nephews.
Darlene was proceeded in death by her husband, Ervin Schempp; parents, Hildebert and Martha Guericke and sister, LoRene Hanson.
To send flowers to the family or plant a tree in memory of Darlene Schempp, please visit Tribute Store
Visitation
5:00 pm - 7:00 pm
Sunday, June 9, 2019
Grace Lutheran Church
511 South Pine
Menno, South Dakota, United States
605-387-5241
Scripture Service
7:00 pm - 7:30 pm
Sunday, June 9, 2019
Grace Lutheran Church
511 South Pine
Menno, South Dakota, United States
605-387-5241
Memorial Service
11:00 am - 11:45 am
Monday, June 10, 2019
Grace Lutheran Church
511 South Pine
Menno, South Dakota, United States
605-387-5241