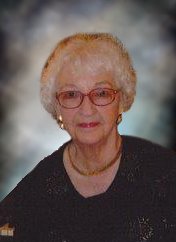 Obituary of Vivian Aleta Toczek
Vivian Aleta Toczek, age 89 of Yankton, SD passed away on Monday, March 4, 2019 at Avera Sister James Care Center in Yankton. A private family memorial service will be held at a later date.
Vivian was the fourth of six children born to Frank W. and Pearl Ellen (Rummel) Smith on November 20, 1929 in Yankton, South Dakota. She went to school in Yankton and graduated in the Class of 1947. She worked that summer at the Fantle's Department Store and then entered nurses training in Independence, Missouri. She married Lowell J. "Tony" Toczek on July 31, 1949 and the couple had their first son Brian on October 18, 1952, and Keith on July 11, 1957. They lived and worked in Yankton, spending many fun weekends on their houseboat on the Missouri River and devoting much time to the Fire Department and Auxiliary. In 1980 Tony and Viv moved to Salt Lake City to be closer to sister Shirley and Tony's best friend Jerry Scheel. They lived there until 1996 when they and the rest of the Smith clan moved to Hot Springs Village, Arkansas. At the time, they were the largest group of siblings living in the "Village." Viv had many happy years there with her brother Wes and sisters Shirley and Kay until health issues made a move back to Yankton necessary. She has resided at the Yankton Care Center and then Majestic Bluffs until her death.
Viv was a caring, gentle, and loving person, always willing to help anyone in need. She loved children and wrote a children's book entitled "The Remarkable Animal Band." She collaborated with grandson Chris, a talented illustrator with Hallmark to create a book for kids to enjoy. Her niece, Sherry (Scheel) Matteucci had the book put together and published and presented the first copy to Viv at a family reunion.
Vivian is survived by her sister, Carole (Kay) Croshaw; sons Brian (Lori) Toczec and Keith (Dianne) Toczek; seven grandchildren; seven great-grandchildren; and ten nieces and nephews.