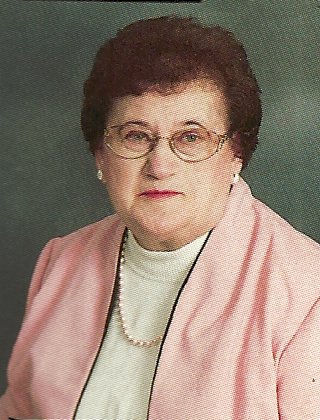 Obituary of Angeline L. Schoenfish
Angie was born August 21, 1929 in Menno, South Dakota to Emil and Huldina (Wollman) Schoenfish. She was the third of eight children. Angie was baptized on February 2, 1930 by Rev. C.W. Heuer and later confirmed on May 30, 1943 by Rev E.A. Bischoff in the American Lutheran Faith at Grace Lutheran Church in Menno. Angie attended grades one through eight in rural school District #94 south of Menno.
After graduation, Angie (like many other girls at the time) stayed at home with the family to help with the farm work and to help with raising the younger brothers and sisters. Angie was also an excellent cook making many of the German recipes suggested by her Mom. She also liked to try new recipes which she took out of any of the vast library of cook books she accumulated.
In later years, after many of the siblings were gone from home, Angie began employment outside the home. She worked as a telephone switchboard operator at Vic Bradley's telephone exchange in Menno and Scotland, Clerk at the Hutchinson County Courthouse, Haar Abstract office and Mettler Implement and Fertilizer plant. Her last and most favorite job was at the Menno City Library located at the Menno Public School. She was an avid reader and this gave her access to many of her favorite titles. If she started a series of books, she would not quit until she had all the books in that series read. In addition she was the family historian and sent many birthday and greeting cards to brothers, sisters, nephews and nieces and kept track of all their children and their birthdays. Family and friends were very important to Angie. She would always welcome a one-half hour visit which would usually last at least two hours.
Angie is survived by brothers: Rev. Marvin (Joyce) Schoenfish, Glenn (Kay) Schoenfish, Allen (Marcine) Schoenfish and Delmar (Veronica) Schoenfish; sister, Ardina (Melvin) Huether; sister-in-law, Bernice Schoenfish and numerous nephews, nieces, and a host of friends.
Angie was preceded in death by her parents, Emil and Huldina Schoenfish; brother, Arthur in 1995, brother, Elton infancy in 1933; sister-in-law, Justine Schoenfish, and niece, Carol Prien.
To send flowers to the family of Angeline Schoenfish, please visit Tribute Store
Visitation
1:30 pm - 2:30 pm
Saturday, February 23, 2019
Grace Lutheran Church
511 South Pine
Menno, South Dakota, United States
605-387-5241
Funeral Service
2:30 pm - 3:15 pm
Saturday, February 23, 2019
Grace Lutheran Church
511 South Pine
Menno, South Dakota, United States
605-387-5241
At Rest
3:15 pm - 3:30 pm
Saturday, February 23, 2019
Menno Cemetery
South Park Street
Menno, South Dakota, United States
605-387-5404