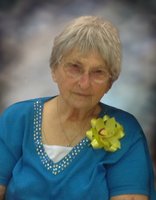 Lucille Elaine Steffen-Hellwig
HELLWIG, LUCILLE ELAINE STEFFEN
Lucille Elaine Steffen Hellwig, age 90, of Limon, CO and formerly of Menno, SD passed away on Tuesday, February 19, 2019 at the Lincoln Community Hospital in Hugo, CO. Arrangements are under the direction of the Aisenbrey-Opsahl-Kostel Memorial Chapel in Menno. Online condolences may be made at: www.opsahl-kostelfuneralhome.com.
Lucille Elaine Steffen was born to William and Edna Pofahl Steffen on May 8, 1928 on a farm just west of Menno, SD.
Lucille was baptized on June 3, 1928 and confirmed on June 22, 1941 into the Immanuel Lutheran Church, Menno, SD. She continued to be a member until her death.
After graduation from Menno High School in 1946, she worked at Haar Abstract Office.
Lucille married Willard Hellwig in 1947 and worked with him in the implement dealership they owned for 23 years. During that time, they had five daughters. After the Implement closed, she opened the Wayside Café and owned and worked there for three years. During her working career she also owned a ceramic business. She taught the craft to kids in 4H and others who were interested. Being a perfectionist, her things were lovely and she sold them at craft fairs.
From 1972 to 1993, she worked for the state of South Dakota in the Department of Social Services. After retirement, she had the time for needlework, including piecing quilts, quilting, cross stitch and embroidery. She made quilts for the whole family and did everything by hand.
Lucille's first love was music and had a beautiful voice. She sang at weddings in her younger years and always sang with her girls when they got together. When in assisted living, she would sing and play her harmonica, entertaining the other residents.
Reluctantly she had to give up her needlework due to loss of vision and her singing voice declined as she aged. She always kept trying though. After a hospitalization for dementia, she died February 19, 2019 at Lincoln Community Hospital in Hugh, CO.
Lucille is survived by her sister, Myrdes Steffen of Menno, SD; her five daughters: Ricki (George) White of Colorado Springs, Co, Nancy Maynard of Limon, CO, Holly Edelbrock of Colton, SD, Lori Janzen of Watertown, SD, Robin (Scott) Kimble of Limon, CO; five grandchildren: Matt Janzen, Russ Maynard, Brad Maynard, Kaitlyn (Kimble) Bennett and Sayla Kimble and five great-grandchildren.
Lucille was preceded in death by her grandson, Tyler Janzen.