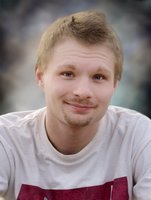 Lucas Lynn Smith
Smith, Lucas
Lucas Lynn Smith, age 24 of Yankton, SD passed away on Saturday, April 6, 2019 (on his birthday) at Avera McKennan Hospital in Sioux Falls, SD.
Lucas was born April 6, 1995 in Yankton, SD to Chris Smith and Connie (Vehlow) Carda. He was baptized at Lake Yankton by Pastor Jeff Mantz and attended Yankton High School. Lucas worked at Manitou (formally Gehl Company) in Yankton, SD and loved this job of painting equipment. This was the happiest and best time of his life. Lucas worked construction at his father's company before his death.
Lucas loved spending time with close friends and loved gaming. He was best friends with his father and extremely close to his nieces and nephews and very protective of them. He had a huge heart for his family and friends. Lucas had a joy and silliness about him that affected everybody around him that knew him.
Lucas is survived by his mother and father of Yankton, SD; sisters, Ashley Smith and Alyssa Weiland, both of Yankton, SD; uncles: Mark Johnson of Fircrest, WA, Karl Vehlow, Jr. of Salt Lake City, UT and Ronnie Johnson of Oregon; nieces and nephews: Aaliyah Person of Norfolk, NE, Caleb Freck of Lincoln, NE and Riley Schenkel of Yankton, SD; stepfather, Mick Carda of Yankton, SD; grandfathers, Stan Smith of Indianapolis, In and Karl R. Vehlow Sr. of Chandler, MN and grandmother, Diane Wright of Tacoma, WA.
Lucas was preceded in death by his grandmother, Jane McCabe.