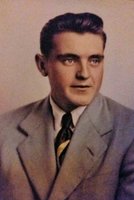 Marion Lee "Sam" Nelson
NELSON MARION (SAM)
Marion 'Sam' Nelson, age 90 of St. Helena, NE passed away early Tuesday morning at his residence under hospice care.
Marion "Sam" Lee Nelson was born November 4, 1928 to John and Cora (Kelly) Nelson in Aten, Nebraska. He was raised on the family farm in Aten and attended country school and Yankton High School. Sam worked with his dad and brother on the farm and worked at pile driving on the river. Later, he attended auctioneer school in Mason City, Iowa in the 40s. In 1950, Sam enlisted in the United States Navy. He was assigned to postal work at the amphibious base in Coronado, California. In 1952, he married Eleanor Arens at Crofton, Nebraska. They resided in Coronado where their first son, Doug was born. Sam was assigned a tour aboard the USS Mt. McKinley in the Pacific Arena. He was discharged as 3rd Class Petty Officer. In 1954, Sam and his family returned to the Aten farm where he had spent his childhood. In 1963 they moved to South Yankton and made it their home for the remainder of his life.
Sam is survived by his wife; Eleanor; sons, Doug (Lynne), Kent (Jan); daughter, Lori (Jim) Reaney; grandchildren: Jason (Jill), Heather (Justin) Olson, Jessica (Jason) Snipes, Kyle (Stephanie), Tyler (Bobbie) Reaney, Justin (Amber) Reaney, Tarah (Nate) Jamison, Matt Reaney and Derrik; great-grandchildren: Easton, Burkley, Xavier, Mathea, Caiden, Oxford, Spencer and Cora.
Sam was preceded in death by his parents, John and Cora; siblings, John (Lois), Olive (Iver) Cady, Eleanor (Ralph) Hennings, Neola (Jim) Thomas and Wilma (Russ) Rahn; nephew, Gary Thomas and niece, Joan Kirksey.
In lieu of flowers, memorials may be directed to Aten Cemetery Association, 55607 895th Road, Crofton, NE 68730.