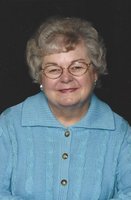 Marilyn K. Gorsett
GORSETT MARILYN
Marilyn Kay Gorsett, age 74 of Yankton, SD passed away Tuesday, March 26, 2019 at the Reflections-End of Life Care, Northfield, MN.
Marilyn was born on May 8, 1944 in Yankton, SD to Martin and Alice (Mathison) Gorsett. She grew up on the family farm in the Volin-Wakonda area. Marilyn attended Oakdale, a country school, for eight years and graduated from Wakonda High School in 1962. For the next ten years she worked in the home health care field, providing companionship and assistance to persons recovering from illness and/or hospitalization. Throughout her life Marilyn enjoyed caring for children and was a frequent babysitter for several families in the Wakonda, Volin, and Yankton communities.
Marilyn did seasonal work for Gurney's Seed and Nursery for several years. In 1980 she began fulltime employment with the Freeman Company in Yankton. In 1987 Marilyn began working for Vishay Dale Electronics where she was employed until her retirement in 2014.
Marilyn was baptized and confirmed at Volin Lutheran Church and was a member of Faith United Lutheran Church. Marilyn moved from the family home place to Yankton, SD in 1984. She was diagnosed with cancer in 2010 and fought courageously until her recent death. In February, Marilyn moved to Northfield, MN to spend her last few weeks near her beloved family.
Marilyn enjoyed watching baseball and was an avid Minnesota Twins fan. She enjoyed collecting Beanie Babies and Precious Moments figurines. She also assembled numerous scrapbooks and photograph albums, creating a treasured history of her family and friends. Marilyn took a great interest in following the lives of her nieces and nephews and their families. She greatly enjoyed visiting her family located in various cities in the US.
Marilyn is survived by her two brothers, Eugene (Dian) Gorsett of Murfreesboro, TN and Allan (Lynda) Gorsett of Maple Grove, MN; one sister, Julie (John) Hobert of Cannon Falls, MN; five nieces, three nephews, and many great nieces and nephews.
Marilyn was preceded in death by her parents.