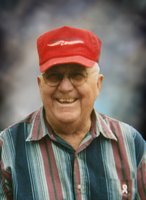 Stephen G. Walloch
WALLOCH STEPHEN
Stephen Walloch, age 87 of rural Scotland, SD passed away Wednesday, March 27, 2019 at Avera Sister James Care Center, Yankton, SD. Pallbearers will be: Dan Krcil, Steve Krcil, Greg Krcil, Lisa Peters, Kevin Pravecek and Roger Marek.
Stephen was born to James and Della (Pravecek) Walloch on December 7, 1931, on the family farm where he resided his entire life. He was baptized and confirmed at St. George's Catholic Church in Scotland. He attended Klinkner Country School, rural Scotland, through the eighth grade. Steve often talked about how he could only speak Czech when starting school and how he learned to speak English. He later served on the board for this rural school.
He was a member of St. Wenceslaus Catholic Church where he ushered and served on the church council. He was also an active member of the Tabor American Legion Post 183.
Steve was drafted into the Army on March 12, 1953, and served as an engineer in Pusan, Korea, until his discharge on December 23, 1954, attaining the rank of Corporal.
He married Frances Krcil on April 26, 1955, at Dante, SD. Throughout their 48 plus years of married life, they enjoyed attending polka dances and visiting friends and family. They spent their married life farming together. Steve especially enjoyed working his cropland, raising livestock, attending his children and grandchildren's sporting and other events. He liked frequenting local coffee stops to visit with friends and neighbors.
He instilled his love for the Czech heritage in his children and grandchildren and he was always a wonderful resource for recalling tales of yesteryear.
Stephen is survived by two daughters, Diane (David) Hovden of Mission Hill, SD and Theresa Walloch of Aurora, CO; one son, Mark (Emily) Walloch of Scotland, SD; four grandchildren, Anthony, Elyssa, Joslyn and Jayce Walloch, all of Scotland, SD; his brothers-in-law: Vit (Mildred), Joe (Irene), Frank (Linda) and Tony (Rita) Krcil; sisters-in-law, Dorothy Dixon, Judy Krcil and Hattie Walloch and numerous nieces and nephews.
Stephen was preceded in death by his wife, Frances in 2003; parents; sisters, Marcella Marek and Albina Vitek; brothers, Leonard and Lawrence Walloch; brothers-in-law, Tom Krcil, Jim Dixon and Ivan Vitek and sister-in-law, Mary Grills.