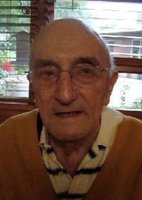 Richard A Hermanek
Richard A. Hermanek, age 89, a lifelong resident of Tyndall, SD passed away on Thursday, March 14, 2019 at Good Samaritan Society, Tyndall. Arrangements are pending with the Opsahl-Kostel Memorial Chapel in Tyndall. Funeral services to be determined and announced at a later date.
Richard was born in Tyndall, SD on December 23, 1929 to Anton and Josefa Hermanek. Richard attended Tyndall High School where he was the Senior Class President. He served in the United States Army for three years, with his most significant duty HQ Battery 48th Field Artillery Bn 7th Division FEC APO 7. He received a Korean Service Medal with three bronze stars, Republic of Korea Presidential Unit Citation DAGO 35, 1951. Richard worked for the South Dakota Highway Department as an engineer for most of his life. He was a member of the Tyndall Fire Department for 28 years, following in his father's footsteps. He built a home in Running Water, South Dakota, where he enjoyed updating and adding to the property periodically. Richard was known as the historian of the Bon Homme area. He enjoyed sharing his historical knowledge with everyone. He engaged in many historical re-enactments in the area, where he made cannon balls that were shot with black powder. Richard received a certificate from the First U.S. Infantry of Fort Randall in 1996 as an expert rifle marksman. Richard was a very knowledgeable and kind man, willing to help anyone and a stranger to no one. We will all miss him dearly.
Richard is survived by many nieces and nephews.
Richard was preceded in death by his parents, Anton and Josefa Hermanek; brother, Jerry (Marie) Hermanek and sisters, Jean (Joe) Cap and Milada (George) Spry.