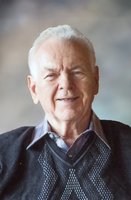 Clifford H. Buseman
Buseman, Clifford
Clifford H. Buseman, age 84 of Yankton, SD, passed away on Friday, March 22, 2019 at Avera Sacred Heart Hospital in Yankton.
Clifford Harry Buseman was born on December 15, 1934 at Canistota SD to Margaret (Johnson) Buseman and Claus Buseman. Clifford grew up in the Monroe and Canistota SD area, where he attended grade school at Spring Valley #4, high school at Monroe and church services at Spring Valley Baptist Church.
Clifford was stricken with a rare disease, Amyloidosis approximately 5 years ago and that contributed to his death.
Clifford was united in marriage to Edith Marie Gortmaker on January 29, 1953. After marriage, they resided in Sioux Falls SD. To this union, a daughter, Gayla Eileen was born. Clifford began working at John Morrell and Company. They moved to an acreage west of Sioux Falls and started foster care for the elderly in their home; it was named Edith's Eventide Acres. At this home, another daughter Gena Ellen was added. The home soon outgrew the number of residents, so a larger home was built in Lennox, SD in 1990. Clifford decided to quit work after 35 years at John Morrell and Company and help Edith. In 1995 it became apparent that more space was needed for the growing number of elderly who wanted to reside with them so an addition was added. It became known as Hilda's Heritage Home, Assisted Living Inc. In 2000 the city of Gregory felt it could use an Assisted Living facility and asked the Busemans to build and manage that home also; Silver Threads Assisted Living, Inc. In 2007 it was decided to sell both facilities and Clifford chose Yankton, SD as a place of retirement to be close to the Missouri River, trees and wildlife.
Clifford gave his heart to the Lord Jesus, when young, and became a member of The First Church of Monroe on June 20th, 2006. When weather did not permit to drive from Yankton to Monroe, he had several TV ministers he liked to watch, including Rev. Harold Salem of Aberdeen SD.
Cliff, as he was often called, enjoyed cars, motorcycles, western clothes and boots, flowers, picking beans, reading the Bible and The South Dakota magazine. He was a quiet man and did a lot of inner reflecting.
Cliff was always ready to lend a helping hand at home and gave dutiful care to his pet cats and the yard. He was an early riser and loved to work in the yard in early morning. He preferred not to go anywhere without Edith.
Cliff will be sorely missed by his wife, Edith of 66 years; his daughters, Gayla Stewart of Tea, SD and Gena (Daniel) Wnuk of Lapeer, MI; three grandchildren: Errol (Nat) Stewart, Mason and McKenna Wnuk; sister, Delores Kraemer and brother, Lynn (Janet) Buseman and nieces and nephews.
Cliff was preceded in death as a surrogate father to Annetta Shutt; his parents, Margaret and Claus Buseman and his father and mother-law, Evert and Hilda Gortmaker.