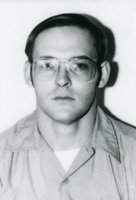 Merle Covell
COVELL MERLE
Merle Covell, age 68 of Yankton, SD passed away Tuesday, February 05, 2019 unexpectedly at his home.
Merle was born January 26, 1951 at Sacred Heart Hospital, Yankton, SD to Jesse and Neola (Robinson) Covell. He graduated from Yankton High School in 1969. Merle was in the Air Force for six years and the Navy for 14 years and ending his military service in 1994. He worked as a convenience store clerk in Mary Esther, FL which was outside of Elgin Air Force Base. He attended Okaloosa Walton Jr. College in Mary Esther, FL and received a two-year degree in business.
Merle lived in Florida until 2013 and then moved back to Yankton, SD until his passing.
Merle is survived by his daughter, Corrine Aweau of Hawaii and three grandchildren; one brother, Francis Covell of Yankton, SD
Merle was preceded in death by is parents, Jesse & Neola Covell and grandparents, Ray and Mae Robinson and John and Lottie Covell.