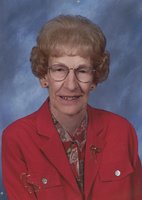 Thelma D. Avery
AVERY THELMA
Thelma D. Avery, age 94 of Yankton, SD passed away Friday, February 15, 2019 at Park View Haven Nursing Home, Coleridge, NE.
Thelma was born to Harry and Catherine (Lowe) Anderson in Sioux City, IA on October 1, 1924. When she was two years old, the family moved to a farm northeast of Yankton in the Walshtown area. She attended rural school for the first eight years, graduated from Yankton High School in 1942 and attended Mount Marty College. She then taught in rural schools for several years. She married Arthur J. Avery of Yankton on July 20, 1946 at Trinity Lutheran Church, which was at that time at 6th and Capital. To this union, two children were born, Linda and Tom. Thelma also worked for several years at the Yankton Middle School cafeteria. Thelma was a member of Trinity Lutheran Church from the time she as 12 years old and was a member of the Martha Circle and a Bible study group for many years. She was also a member of the VFW Ladies Auxiliary and enjoyed the Yankton (Senior) Center, participating in many games of pinochle. She frequently volunteered for church functions and delivered Meals on Wheels.
After retiring, Thelma and her husband, Art enjoyed traveling to many places, including Europe and nearly every state in the U.S., including Alaska and Hawaii. Her favorite pastimes were baking, working in her flower garden, needlepoint, reading, and playing cards. She will always be remembered for her kindness to everyone she met and her socialability.
Thelma is survived by her son, Thomas Avery of Eugene, OR; her daughter, Linda (Avery) Huennekens and son-in-law, Charles (Chuck) Huennekens of Littleton, CO; granddaughter, Anne Huennekens; one great-granddaugher, Hannah, and one great-grandson, Christopher, all from Colorado, and many dear nieces and nephews.
Thelma was preceded in death by her parents; her husband, Art; granddaughter, Cara; her two brothers, Rupert Anderson and Harry (Gene) Anderson and her three sisters: Arlene McHenry, Ida Blackman and Elizabeth Lucas.