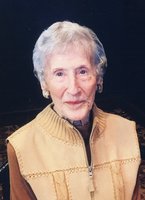 Bertha E Hines
HINES BERTHA
Bertha Hines, age 100 passed away Wednesday, February 13, 2019 at Avera Sacred Heart Hospital, Yankton, SD.
Bertha "Bert" Handel Hines was born to John and Emma Neu Herrboldt in Menno, SD on November 29, 1918. She was baptized and confirmed at the Ebenezer Reformed Church of rural Menno. She graduated from Menno High School in 1938. Bertha married Ewald John Handel in 1938 and they moved to California. She was employed as a secretary at a dental office for 27 years.
Bertha married David Otto Hines in 1980. She was an active member of the First Presbyterian Church of San Leandro, CA, a member of the Chancel Choir and a member of the Eastern Star. She returned to South Dakota in 1999 and resided at the Sunrise Apartments in Yankton, SD. She was an avid reader, staying up past midnight reading a good book. Her daily routine was going to Wendy's with the newspaper, having coffee and running errands. She was also a member of the United Church of Christ in Yankton.
Bertha is survived by her step-daughter, Mary Lou Ritter of Portland, OR; brothers, Alfred (Nona) Herrboldt of Alcester, SD, Alton (Myrna) Herrboldt of Menno, SD; sister, Darlene Wollman of Sioux Falls, SD; twin step-grandsons, James and David Streeter; step great-grandchildren; special niece, Connie and many nieces, nephews and friends.
Bertha was preceded in death by her parents; husbands, Ewald and David; her brothers, Leon and Eugene; sisters-in-law, Eleanor and Laurene and brother-in-law, Lloyd Wollman.