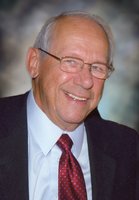 Leon N. "Leon" Maggied
MAGGIED LEON
Leon Norman Maggied, age 88 of Yankton, SD passed away Monday, February 11, 2019 at Avera Sacred Heart Hospital, Yankton, SD after a brief illness.
Leon was born February 2nd (Ground Hogs' Day), 1931, in Gallipolis, Ohio, an Ohio River town, to Meyer and Dorothy (Ross) Maggied. He graduated from Gallia Academy High School where he was involved in many activities, including band and football, sometimes the same night.
He attended the University of Cincinnati, majoring in business and accounting. It was there that he met his future wife, Joyce Klarin of Dayton, Ohio, as a "blind date" for a dance. He moved to Dayton to work and to pursue Joyce. They married August 1953, and their family grew to include Michael and Mark. The family made their home in Dayton until 1980 when they moved to South Dakota for a position as comptroller for the Fantles Department Store chain.
While in Dayton, Leon was active in the Miami Valley Council of Boy Scouts of America as an adult committee member for many years. He was presented the Silver Beaver Award, a distinguished volunteer service award. He was elected to serve as President of the city-wide Dayton Public Schools' School/Community Councils. Leon also became a Free Mason, attaining the Scottish Rite 32nd degree, and was involved in many programs at Temple Israel Synagogue.
After making Yankton their "adopted home" 39 years ago, Leon became owner of the Yankton Fantle Stores. He was a founding Director of the Downtown Yankton Main Street Project and served on the South Dakota Retailers Association as a board member for multiple terms. He was a member of Elks' Lodges for 69 years and a member of Hillcrest Golf and Country Club for over 25 years.
After retirement, Leon and Joyce enjoyed traveling and being "snowbirds" in Arizona for 16 years. He was a charter member of the Yankton Community Forum and a member of Mount Zion Temple Congregation in Sioux Falls.
Leon was a "mensch", a man of integrity and honor, kind, generous and quiet spoken, loved by his family and looked up to by those who knew him.
He is survived by his wife, Joyce of Yankton, SD; two sons, Michael of Mesa, AZ and Mark of Nashville, TN; three grandchildren and six great­grandchildren; his brother, Zolmon Maggied of Charleston, WV and sister-in-law, Marilyn Serbin of Windsor, CA.
He was preceded in death by his parents, Meyer and Dorothy Maggied.
Memorials may be directed to Friends of Scouting to benefit the Lewis and Clark Boy Scout Camp (United Way c/o Boy Scouts of America, 610 W. 23'd St, Ste 11), to the Shriners Hospitals for Children (on line or 2900 Rocky Point Dr., Tampa, FL 33607), or the charity of your choice.