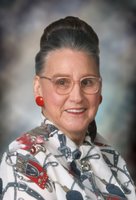 Johnnie Stucker
STUCKER JOHNNIE
Johnnie Stucker, age 86 of Yankton, SD went home to her Heavenly Father on Thursday, February 07, 2019 at Avera Sister James Care Center, Yankton, SD.
Johnnie Maureen Hill was born Friday, January 13, 1933 in Woodford County, KY to John R. and Verna B. (Curry) Hill. Her father wanted a namesake and for the rest of her life, close family lovingly referred to her as "Johnnie Girl". Despite that injustice, she always considered Friday the 13th a lucky day.
In 1954, she married the love of her life, George Stucker. They had two children, Kevin (born in 1961) and Jada (Born in 1971). The Stucker family eventually relocated to Yankton. When asked what she did for a living, Johnnie always smiled and said, "I'm a domestic engineer".
Johnnie was a warm, wonderful lady who enjoyed life and loved family and friends with all her heart. Although she never learned to read music, she learned to play piano "by heart", a God given gift she shared whenever possible.
Grateful and blessed to have shared Johnnie's life is her daughter, Jada (Edward) Johnson of Sioux Falls, SD; one sister, Evelyn Jewell of Lancaster, SC and several nieces and nephews.
Johnnie was preceded in death by her parents; her husband and son.
The family of Johnnie would like to thank all the nursing staff of Sister James for their wonderful and compassionate care.