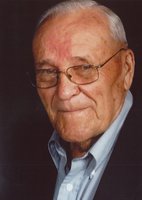 Patrick J. "Pat" Lyons
LYONS PATRICK
Patrick J. 'Pat' Lyons, age 90 of Yankton, SD passed away peacefully Saturday, February 2, 2019 at his home surrounded by his family. Pallbearers will be Justin Lockwood, Ben Slowey, Paul Goeden, Jonah Morgan, Sean Lyons, and Will Lyons. Honorary pallbearers will be his Grandchildren and Great Grandchildren.
Pat was born in Wagner, SD on November 8, 1928 to William and Mary (Donohoe) Lyons. Pat moved to Yankton in 1930. Pat attended Willowdale School for 8 years and graduated from Yankton High School in 1946. He served in Korea from 1946-1948 and was in the Army reserve until 1952. He then attended Yankton College until entering the farming business with his father in 1950.
Pat met the love of his life, Pearl Larson, at a dance in 1951. They were married on June 9th, 1953 and were married for 65 years. They were blessed with six daughters. Pat and Pearl moved to the family farm after the passing of his father in 1960. The farm would become the meeting place for many family gatherings. Farming became a way of life for Pat and he successfully managed row crops, hogs and cattle at Lyons Farms until his retirement in 1996. He was the Master Pork Producer of South Dakota in 1972. Pat enjoyed being active in the community and served on the Soil Conservation board, was a member of the Livestock Feeders Association, the Zoning board in Yankton County, the Yankton County Irrigators, the Yankton Historical Society, the VFW and the Elks. Pat had a love for collecting antique cars and was a member of the Yankton Antique Auto Association and the Sioux Falls Model A Club. Pat will be remembered for his generosity as well as a helping hand to those in need & a mentor to young farmers. Pat & Pearl went on many vacations and wintered for several years in Mission, TX.
Pat was a devout Catholic and member of Sacred Heart Parish. He served on the Parish Council during the construction of the new church that was built in 1968.
Patrick is survived by his wife, Pearl. Six daughters, Susan Streedbeck, Linda (Greg) Slowey, Barb Goeden (Tom McCarty), Kathy (Dave) Johnston, Mary (Randy) Gross and Carol (Grant) Reade. Grandchildren Justin Lockwood, Jessica (Chris) Morgan, Becky (Dan) Blom, Ben Slowey (Anna Meredith), Paul (Kendra) Goeden, Alysse (Tyler) Spease, Briana (Nick) Nelsen, Natalie Gross (Victor Cima), Melanie (Nick) Selken, Tara (Ryan) Burton and Kayla (Alex) Toupal. Great-grandchildren Jada and Jonah Morgan, Charlize Lockwood, Titan and Saylor Blom, Paxtyn and Maddix Strong, Silas Slowey, Taylor and Lexi Goeden, Hayden Hogan, Liam Gross, Vinny Cima and Max Toupal. Pat is also survived by his four brothers, Frank (Jean) Lyons, Tom (Marcia) Lyons, Jack Lyons and Bob (Nona) Lyons, sister-in-law Donna McLaughlin and several beloved nieces and nephews.
He is preceded in death by his parents, brother Gene Lyons, sister Elizabeth Susan Winckler, sisters-in-law Margaret Lyons and Rita Lyons and son-in-law Jim Streedbeck.
Memorials are directed to the Yankton Food for Thought; 2407 Broadway Ave. Yankton, SD 57078, Yankton Community Feast; c/o First National Bank; 332 Broadway Ave.; Yankton, SD 57078, or Pathways Shelter for the Homeless; 412 East 4th Street; Yankton, SD 57078.