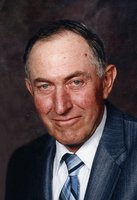 Donald W. Pavel
Pavel, Donald
Donald Pavel, age 83 of Tyndall, SD, passed away on Monday, January 7, 2019 at his residence. Pallbearers are: Mike Pavel, Matt Bennett, Mary Kuchta, Dawn Coudron, Amanda Bult, Angela Nutter and Nick Pavel. Honorary pallbearers are his great-grandchildren.
Donald was born October 19, 1935 in Tyndall, SD to Adolph and Elsie (Kaftan) Pavel. He attended Daisey Valley School in Springfield, SD until the 8th grade. He worked at home with his family on the family farm south of Tyndall. On April 24, 1956, he married Lorraine Agnes Walloch in Lesterville, SD at St. John the Baptist Catholic Church. They spent their married life on their farm west of Lesterville, SD. Donald worked side by side with his wife on the farm and also drove truck. He enjoyed working with livestock and playing cards. He loved his grandchildren and great grandchildren and looked forward to them coming over. As his grandchildren and great-grandchildren grew older, he looked forward to watching them in various activities.
Lorraine and Donald were married for 49 years until she passed away in 2005. Donald re-married Mary Fran Baringer in 2010.
Donald is survived by his two children, Ronald (Patty) Pavel and Charlene (Philip) Bennett, both of Lesterville, SD; seven grandchildren: Mike (Kayla) Pavel of Lesterville, SD, Dawn (Jeremy) Coudron of White Bear Lake, MN , Amanda (Brent) Bult of Tyndall, SD, Angela (Ryan) Nutter of Ham Lake, MN, Nick Pavel of Sioux Falls, SD, Matthew (Lacey) Bennett of Mitchell, SD and Mary (Andy) Kuchta of Wayne, NE; great-grandchildren: Jaden and Ellie Bult, Lane, Elsie, Lillian and baby Pavel, Piper and baby Coudron and Emerson Nutter, Noah, Micah and Raegan Bennett, Daniel, Sara, Rachel and Elizabeth Kuchta; wife, Mary Fran of Tyndall, SD, one brother, Romain Pavel of Sioux Falls, SD; two sisters-in-law, Gladys Kubal of Lesterville, SD and Mildred Walloch of Tabor, SD and several nieces and nephews.
Donald was preceded in death by his first wife, Lorraine; his parents and brother, Ray.