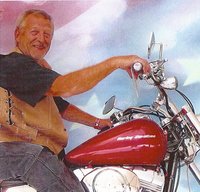 Gerald Lloyd "Jerry" Hausman
Jerry was born to Lloyd and Lucy Hausman in Detroit Michigan. Raised in Yankton and growing up on the Family Mink farm.
Jerry was a very Devoted son, Hardworking man; working on the family Mink farm, went to college, joined the Navy where he served his country for 27 years which included Vietnam and Desert Shield. He took a lot of pride in the service and his country. He bar tended and worked at JoDeans stake house. After he retired he moved in to help take care of his parents.
He was soft spoken, a polite gentleman, with a very kind heart. laid-back, easy going, with a carefree spirit. He loved playing cards; Pinochle, Texas hold'em poker, his Harley motorcycles, Fishing, his gun collection, shooting pool - 8 & 9 ball, hunting and traveling. He enjoyed spending time with family and friends. He liked music, watching country western movies/shows, He loved life, and just liked to have fun..
Jerry is survived by his Daughter Dawn (Terry) Williams, 5 Sons; John (Mia), Rex (Diana), Max, Ben Hausmann and Dennis Cash, Sister; Bettilu Davenport, Brother Ron (Carla) Hausman. Grandson; Christopher Arbach. And many Nieces, Nephews and Cousins.
Special friends: Jack Neilsen, Norma Washburn and more.
Special thanks, to Darin Mann on Dad's Birthday.
Jerry was preceded in death by his parents; Lloyd & Lucy Hausman, Sister Connie Marken, Son (TJ) Thomas Hausman and grandson Arick Strauser