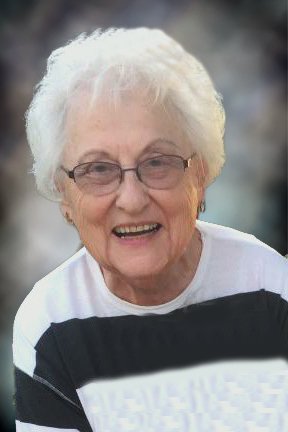 Obituary of Kathleen Pfeifle
Kathleen Pfeifle, age 87 of Menno, SD passed away early Saturday, May 20, 2017 at the Sanford USD Medical Center, Sioux Falls, SD. Visitations will be 5 to 7 PM, Friday, May 26, 2017 at the Aisenbrey-Opsahl- Kostel Memorial Chapel, Menno, SD with a time of Memory sharing at 7:00 PM. As per her wishes, a gathering of family & friends and burial of her cremated remains will be held at a later date where she will be laid to rest beside her "Oskie"! In lieu of flowers, memorials may be made to the Menno Volunteer Fire Department or a charity of your choice. On-line condolences may be sent at: www.opsahl-kostelfuneralhome.com.
Kathleen Anne (Tschetter) Pfeifle, beloved mother, grandmother, aunt, and friend to many passed away on Saturday, May 20, 2017 at Sanford Hospital in Sioux Falls following a severe stroke. Kathleen was 87 years old. She was born on October 20, 1929 to Andrew & Ella (Goertz) Tschetter in Freeman, SD. She had 2 brothers – her twin Kenneth and Ray. She graduated from Freeman High School in 1947. Kathleen married Oscar Earl Pfeifle in June, 1948. To this union 5 very fortunate children were brought into this world: Roger Earl, Reede Alan, Michelle Kay, Nancy Rae and Brad Kendall.
She was a stay at home mom for many years, caregiver for her parents, in-laws, and brothers. She later sold Avon Products and Stanley Home Products for several years, was a cub scout leader for her sons and actively involved with her daughters in 4-H.
In 1964, Kathleen & Oscar purchased the Mobil gas station and café. Mom was known for her delicious caramel rolls, homemade pies, potato soup and many more delicious homemade dishes that she served in their little 11 stool café every breakfast, lunch and dinner for almost 20 years. Mom and dad sold the gas station to their son, Reede, in January 1986. She then went to work at the Menno Public School where she cooked and enjoyed the children and staff. She retired at the age of 72 years.
In her spare time, mom loved to talk to her children & friends on the phone, go out to eat with her friends, work in her garden growing beautiful flowers & fresh vegetables. She loved to can, thanks to Roger who provided so many tomatoes which she so masterfully made into stewed tomatoes, salsa, Chicago Hots, and tomato sauce. She always made sure all five of her children received the exact amount. Another one of her specialties was her homemade jams & pickles – oh how we will miss them!
Mom never met a stranger because she was always so warm and friendly with everyone. She had a wonderful sense of humor and was a true and generous friend.
Kathleen was preceded in death by her husband Oscar (Oskie), parents Ella & Andrew Tschetter, her twin brother Kenneth and wives Norma & Louise, brother Ray, nephews Vaughn Tschetter & Ronnie Graber and niece Cynthia Lembcke.
She is survived and will be missed by her loving children – Roger and his friend Mary Kate Nelson, Custer, SD; Reede & Deanna Pfeifle, Rapid City, SD; Michelle & Marlowe Rames, Great Falls, MT; Nancy & Allen Heakin, Rapid City, SD; and Brad & Michele Pfeifle, Sioux Falls, SD.
Grandchildren – Tracey (Pfeifle) & Charles Robinson, Maui, HI; Kamal Pfeifle, Maui, HI; Kareem Pfeifle & partner Christiana Dickison, Maui HI; Tahira Pfeifle, Huntington Beach, CA; Jessica (Pfeifle) & Matthew George, Las Vegas, NV; Bryce Pfeifle, San Luis Obispo, CA; Jenna (Pfeifle) & Mike Zellmer, Sioux Falls, SD; Tyler Rames & partner Cary Wade, Great Falls, MT; Katie Rames, Great Falls, MT; Andrew Heakin, Rapid City, SD; Allison Heakin & partner Sebastian Boerke, Rapid City, SD; Sophia Pfeifle, Sioux Falls, SD; and Olivia Pfeifle, Sioux Falls, SD. Great grandchildren – Brittany, Heaven & Destiny Robinson; Mason Boerke, Lawai Pfeifle and Mason George; plus many loving nieces, nephews and cousins.