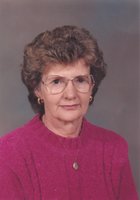 Geraldine Margaret Pederson
PEDERSON, GERALDINE M.
Geraldine M. Pederson, age 88 of Yankton passed away on Sunday, June 11, 2017 at the Avera Sacred Heart Hospital, Yankton. Mass of Christian Burial will be 10:30 AM, Friday, June 16, 2017 at Sacred Heart Catholic Church, Yankton with Rev. Larry Regynski officiating. Burial will be in the Sacred Heart Cemetery. Visitations will begin at 6 p.m., Thursday, June 15, 2017 at the Opsahl-Kostel Funeral Home and Crematory, Yankton with a 6:45 p.m. rosary followed by a 7 p.m. Scripture service. Visitations will resume one hour prior to the service at the church. Online condolences may be sent at www.opsahl-kostelfuneralhome.com.
Geraldine was born August 13, 1928 to Herman and Lavina (Hoebelheinrich) Bonertz, in Cedar County, Nebraska. She attended elementary school at District 57, near St. Helena, Nebraska. She attended two years of high school at Yankton, SD, and graduated from Holy Trinity School, Hartington, NE in 1946. After graduation she worked at the Yankton County Treasurer's office and then the Yankton County Auditor's office until her marriage to Kenneth G. Pederson of Irene, SD on April 19, 1950 at the Sacred Heart Catholic Church in Yankton, SD. She and Kenneth shared 64 years of marriage, farming, and raising three sons: Gary, Stewart, and Kevin. They retired to Yankton, SD in 1992.
She enjoyed doing quilting, crocheting afghans, and gardening, especially flowers. She and Ken belonged to a pinochle club for many years, and Gerry was still playing cards up until early this year. She also enjoyed doing ceramics for many years which she shared with her granddaughters. She was a member of the Legion Auxiliary Post Anderson #12 and Sacred Heart Catholic Church, both in Yankton, SD.
She is survived by three sons: Gary (Marci) Pederson of Volin, SD, Stewart Pederson of Littleton, CO, and Kevin Pederson of Volin, SD; five grandchildren: Jennifer Johnson of Aberdeen, SD, Crystal (David) Meek of Sioux Falls, SD, Rebecca (Jeremy) Johnson of Yankton, SD, Travis Pederson of Bozeman, MT, and Alysha Pederson of Yankton, SD; three great grandchildren: Andrew Johnson of Yankton, SD, Elizabeth and Katherine Meek, both of Sioux Falls, SD; sister, Louann Bonertz and sister-in-law, Darlene Pederson, both of Yankton, SD.
She was preceded in death by her husband, Kenneth; her parents, Herman and Lavina Bonertz; two sisters, Jeanette Anderson and Carol Lowe; one sister-in-law, Glynnis Pederson; four brothers-in-law, Medvin Anderson, Harlan Pederson, Virgil Pederson, and Don Lowe.