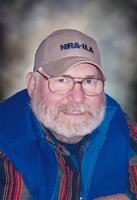 Ernest Charles Hladik
Ernest C. "Ernie" Hladik, age 78 of Tabor, SD passed away Thursday, June 1, 2017 at Avera Sacred Heart Hospital, Yankton, SD. Mass of Christian Burial will be 4:00 PM, Tuesday, June 6, 2017 at St. Wenceslaus Catholic Church, Tabor, SD with Rev. Steven Jones and Mgsr. Carlton Herman officiating. Burial will be in the parish cemetery. Visitations will begin at 2:00 PM, Tuesday, June 6, 2017 at St. Wenceslaus Catholic Church, Tabor, SD with a Rosary prayer at 3:45 PM. On line condolences may be sent at: www.opsahl-kostelfuneralhome.com.
Ernie was born on September 10, 1938, to Ernest and Mary Ann (Zitka) Hladik. He was blessed with two sisters, Donna Mae and Joyce Ann, and grew up on the family farm just west of Tabor. After his father gave his life in WWII, he became the man of the house at the young age of 6. He graduated from Tabor High School and then attended Southern State Teachers College, where he earned his degree in education and coaching.
After college, he moved to Minneapolis, where he worked at John Morrell Meats as a foreman for the next 20 years. While living there, he became a mentor to the neighborhood kids, many of which were without a father figure. Ernie and those children taught each other a great deal about life. Minnesota is also where he met the love of his life and his wife to be, Darlene Root.
Due to his mother's illness, he retired in 1980 and moved back to the Bon Homme farm to care for her until her death in 1993. He returned to Minneapolis on November 19, 1995 to be united in marriage with Darlene and the two began a life together on the family farm.
Ernie was an avid outdoorsman who enjoyed archery, firearms, and trapping. Over the years, he became an excellent marksman. He also enjoyed the process of gathering and chopping wood to heat their home throughout the winter.
In his youth, Ernie was a competitive athlete, participating in basketball, track, and football throughout his school years. Later in life, he was a great supporter of his niece, nephews and neighborhood kids as they played sports. He was a diehard Vikings, Twins, and Celtics fan. When watching a game with Ernie, you could always expect him to educate you about the players and their history.
He is survived and will be deeply missed by his wife, Darlene, sister Donna Keffeler of Tampa Bay, FL, sister Joyce (Eugene) List of Yankton, brother-in laws David (Shirley) Root, Gary Root, Donald Root, 10 nieces and nephews, and several great-nieces and nephews.
He is preceded in death by his parents; mother and father in-law, Howard and Jeanette Root, brother in-law Talvin Keffeler and a special niece and her husband, Lesa and Tony Nicholls.